A Monday ruling making it easier for Kansas jurors to impose the death penalty may be the first sign that the Supreme Court's two new justices will tip the balance away from tighter restrictions on capital punishment.
Chief Justice John G. Roberts and Justice Samuel Alito provided the pivotal votes in the Kansas decision. The decision supported a lower-court ruling that said when jurors believe the reasons for and against execution are equal, they must impose a death sentence.
It's a blow to death-penalty critics, who've said that the Constitution requires the reasons for execution to outweigh reasons against a death sentence. Previous rulings seemed to support that thinking, and the court's most recent rulings on significant death penalty issues - raising standards for defense attorneys, outlawing executions of juveniles and the mentally retarded - had raised expectations that the Kansas case would extend that line.
Roberts' vote didn't shift the court's balance on death-penalty law. He replaced Chief Justice William H. Rehnquist, who wasn't in the majority for most of the court's significant death-penalty rulings.
But Alito replaced Justice Sandra Day O'Connor, whose doubts about capital punishment had grown in recent years. Alito's vote in the Kansas case was presumed to be decisive, because the court was split 4-4 on death-penalty law.
Shape of things to come
Monday's ruling affects only Kansas, but it suggests how the new court may split on larger capital punishment questions.
Justice Antonin Scalia, who has been on the losing side of significant death cases for years, joined the winners Monday. He penned a concurring opinion doubting that there are any institutional problems with the death penalty and rejecting the idea that innocent people have been or are at risk of being executed.
Justice David Souter wrote an equally sweeping dissent. He defined the court's obligation in death cases as seeking a "morally justifiable" sentence. He tied that term to the growing anti-death-penalty campaign that focuses on questions of possible innocence.
Souter cited a bevy of studies suggesting that the nation's prisons may be teeming with condemned prisoners who didn't commit their crimes.
"We are ... in a period of new empirical argument about how 'death is different,"' Souter wrote. Problems in states such as Illinois, which recently commuted the sentences of all its death-row inmates, and studies on incidences of DNA-related exonerations present new challenges and demand tighter scrutiny of capital punishment, Souter wrote.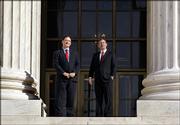 Souter's opinion, which was joined by Justices John Paul Stevens, Ruth Bader Ginsburg and Stephen Breyer, gives a hint of ideological and political sweep to their coalition's work to tighten restrictions on capital punishment. It suggests that, for them, this isn't just about the law and the Constitution, but also about the death penalty's practical effects - a doctrine that's frequently and brutally criticized by judicial conservatives.
Scalia response
Scalia took aim at Souter's attempt to root his objections in the possibility that innocent convicts are plentiful. He accused Souter and the others of irresponsibly fanning worldwide criticism of capital punishment in America.
"There exists in some parts of the world sanctimonious criticism of America's death penalty as somehow unworthy of a civilized society," Scalia wrote. Because Souter's opinion would no doubt be trumpeted by those critics, Scalia said, he was moved to respond. Souter's opinion, he wrote, has "nothing substantial to support it."
Scalia said there's never been a case where it's clear that an innocent person was executed. He punched holes in several often-cited studies of innocence problems, accusing Souter and the other dissenting justices of accepting "anybody's say-so."
Souter's opinion, Scalia wrote, "merely parrots articles or reports that support its attack on the American criminal justice system."
How they voted
Chief Justice John Roberts and Justices Clarence Thomas, Samuel Alito, Antonin Scalia and Anthony Kennedy voted in favor of Kansas' death penalty, while Justices David Souter, John Paul Stevens, Ruth Bader Ginsburg and Stephen Breyer voted that it was not constitutional.
It's not the court's business to "impugn" jury verdicts that result in death sentences, much less to "frustrate" them by "imposing judicially invented obstacles," Scalia maintained.
Scalia's concurrence wasn't joined by other justices, but its tone was quickly echoed by interest groups that have opposed court rulings restricting capital punishment.
The Criminal Justice Legal Foundation, a prominent victims' advocacy group, said through its legal director, Kent Scheidegger, that the ruling showed a court majority was "not inclined to invent new procedural restrictions on the death penalty." Scheidegger said the court would probably continue to enforce restrictions already imposed.
Kansas defendants sentenced to die under the state's 1994 capital punishment law who still face possible execution:
¢ Douglas Belt: For the decapitation in June 2002 of Lucille Gallegos, in an abandoned apartment in a Wichita complex where she worked as a housekeeper. Also convicted of attempted rape and aggravated arson; prosecutors said he set fire to the apartment. ¢ Jonathan and Reginald Carr: For four shooting deaths in Wichita during a nine-day crime spree. A jury concluded they had entered a home and forced two women and three men inside to engage in sexual acts with each other and to withdraw money from ATMs. The women were repeatedly raped before the five friends were taken to the soccer field and shot. One victim survived. ¢ Phillip Cheatham: For the shooting of Annette Roberson in December 2003 at a Topeka duplex. Prosecutors say he opened fire on the duplex, also killing Gloria Jones. A third victim, Annetta Thomas, played dead and survived 19 gunshot wounds. ¢ Gary Kleypas: For the March 1996 killing of Carrie Williams, a Pittsburg State University student, after trying to rape her. The Kansas Supreme Court set aside his death sentence in 2001, and he has been awaiting resentencing in Crawford County. ¢ Michael Lee Marsh II: For the June 1996 deaths of Marry Ane Pusch, 21, and Marry Elizabeth Pusch, who was 19 months old. The mother was shot and stabbed, and her killer set fire to her home, trapping the toddler inside. The toddler later died. ¢ John E. Robinson Sr.: For the murders of two women whose bodies were found in barrels on property he owned in rural Linn County. Also sentenced to life in prison for a third, similar killing. Pleaded guilty in Missouri to five killings, receiving sentences of life without parole for each. ¢ Gavin Scott: For the September 1996 shooting deaths of Doug and Beth Brittain as they slept in their rural Goddard farmhouse. Also: ¢ Scott Cheever: Originally charged in state court with capital murder for the January 2005 shooting of Greenwood County Sheriff Matt Samuels, at a home near Virgil where authorities also found a suspected methamphetamine lab. With the state's death penalty law under a cloud, the U.S. attorney's office agreed to prosecute the case and seek the death penalty in federal court, where the case is pending. ¢ Sidney Gleason: A Barton County jury recommended death for the shooting deaths of Miki Martinez and her boyfriend, Darren Wornkey, in February 2004. Prosecutors say Gleason worried that Martinez would tell police about the stabbing and robbery of a 76-year-old man. A judge must review the sentence. ¢ Gregory Moore: On trial in Harvey County for capital murder in the January 2005 shooting death of sheriff's Deputy Kurt Ford, during the storming of Moore's Hesston home during a domestic violence call. - Source: Attorney General's Office.
Capital crimes in Kansas, all of which must be premeditated:
¢ Murder of a kidnapping victim, if that person was being held for ransom. ¢ Killing of a kidnapping victim under 14, if that victim was being held because the criminal intended to commit a sex crime, such as rape. ¢ Murder for hire or participation in a murder-for-hire scheme. ¢ Killing of a victim of rape, criminal sodomy and aggravated criminal sodomy. ¢ Killing of a prison or jail employee or inmate by a prison or jail inmate. ¢ Murder of a law enforcement officer. ¢ Two or more killings at once, or killings "connected together or constituting parts of a common scheme."
Copyright 2018 The Lawrence Journal-World. All rights reserved. This material may not be published, broadcast, rewritten or redistributed. We strive to uphold our values for every story published.