Rosters for the All-Star Game will be announced Sunday. Already, the event is shaping up as the New York/Boston Invitational.
The latest fan balloting updates were top-heavy with players from the Mets, Yankees and Red Sox.
It's understandable.
All three teams are contenders. All three have big stars.
And all three draw well, which means more ballots end up in more hands at the home team's ballpark.
In-stadium balloting ended Saturday, and Internet voting continues through Thursday. When all the votes are tallied, there's a good chance that six of the starting eight (excluding pitcher) spots in the American League, those voted by fans, will be held down by Yankees or Red Sox players.
Four of the eight starting position spots in the National League lineup could belong to the Mets. In all, 10 of the 16 starting spots that are voted by fans could go to players from New York or Boston.
At last check, the AL balloting was so rife with Yankees and Red Sox that players from those teams had the top two spots at first base (David Ortiz, Jason Giambi), second base (Robinson Cano, Mark Loretta) and third base (Alex Rodriguez, Mike Lowell). The Red Sox and Yankees were well-represented at catcher, where Jason Varitek (Red Sox) and Jorge Posada (Yankees) were first and third, respectively, and at shortstop, where Derek Jeter (Yankees) led over Miguel Tejada (Baltimore).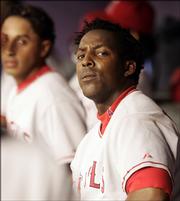 The only AL position not led by a Red Sox or Yankees player was outfield, where Vladimir Guerrero (Angels) held a 40,650-vote lead over Manny Ramirez of, you guessed it, the Red Sox. Johnny Damon was fourth among AL outfielders. He plays for the Yankees but became a household name with the Red Sox. This stuff never ends.
The NL lineup figures to feature a pair of deserving young Mets, third baseman David Wright and shortstop Jose Reyes, on the left side of the infield. Two other Mets, Paul Lo Duca and Carlos Beltran, led at catcher and at outfield.
The only NL positions not led by Mets were first base, where the Cardinals' Albert Pujols leads all vote-getters, and second base, where the Phillies' Chase Utley is headed for the start.
All-star voting is an imperfect science. Fans often vote by popularity, not performance. While some purists might not like that, especially in this era of the All-Star Game being used to decide home-field advantage in the World Series, we don't have a problem with it. Fans are vital to the game, and they deserve their say. MLB officials and managers usually figure out a way to fix any oversights the fans may have.
That's why you'll probably see Ryan Howard, fifth among NL first basemen at last check, in the big game in Pittsburgh on July 11. Pujols, Carlos Delgado (Mets), Nomar Garciaparra (Dodgers) and Lance Berkman (Astros) all ranked ahead of Howard. All have stellar credentials. It'll be interesting to see how this one gets sorted out.
Howard isn't the only NL standout down in the voting. Marlins second baseman Dan Uggla entered Friday hitting over .300 with 13 home runs and 43 RBIs and wasn't in the top five. Teammate Miguel Cabrera ranked fourth among NL third basemen despite putting up big numbers across the board.
Teams like Florida pay the price in fan voting. The Marlins have the worst attendance in the majors, averaging 11,000. There aren't a lot of ballots being punched in the stands at Dolphin Stadium.
On the other hand, the Yankees lead the majors at more than 51,000 per game.
The Mets are third at nearly 42,000, and the Red Sox, who play in the majors' smallest stadium, are ninth at more than 36,000.
Playing in front of big crowds helps but doesn't guarantee election. San Francisco averages more than 38,000, eighth-best in the majors, but it appears as if Barry Bonds (ninth in the voting) will sit this one out.
There are a couple of nice angles in the NL voting, where Alfonso Soriano (Nationals) and Jason Bay (Pirates) have moved into the top three among outfielders. Both are worthy. Soriano went kicking and screaming to the outfield and could become an all-star starter there.
The AL voting also has some interesting storylines. Ortiz figures to be voted the starting first baseman even though he has played just five games there this year. There's no designated hitter in the NL park. White Sox DH Jim Thome isn't even on the ballot, but he's had too good of a season not to be in Pittsburgh. Just as in the NL, the AL first-base situation is crowded. You know this when Paul Konerko (White Sox) and Travis Hafner (the Indians' DH) rank third and fourth. Perhaps the biggest head-scratcher in the AL is at catcher, where the Twins' Joe Mauer ranked fifth despite leading the majors in hitting.
More fan results will be announced today (NL) and Tuesday (AL). And Sunday, we'll know who's in and who's out. Something tells us New York and Boston will be well-represented.
Copyright 2018 The Lawrence Journal-World. All rights reserved. This material may not be published, broadcast, rewritten or redistributed. We strive to uphold our values for every story published.