Adam Stuart is a fairly soft-spoken guy, but he's just a few steps from being labeled a neighborhood nuisance.
On a recent afternoon at home, the 21-year-old biology student leaned back in his recliner, a beer keg sitting on the floor nearby. On a wall behind him were posters of Jimi Hendrix and John Lennon.
Stuart was clutching a piece of paperwork and trying to figure out what's going to happen to him now that the duplex he rents on Birch Lane in central Lawrence has been flagged as a potential "disorderly house" under city code.
He said he'd wound up in the situation by throwing parties that have gone bad. At one, a friend from Nebraska came to celebrate his 21st birthday, got drunk and ended up hitting a woman and licking the hood of a car.
After being called to the duplex three times in three weeks, Lawrence Police told him last week that they'd send a letter to his landlord - his aunt - seeking to have him and his roommates evicted. But since then, Stuart hasn't been able to get a good idea of what's actually going to happen.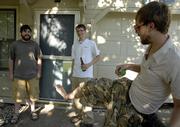 "It's really open-ended," he said. "They can't tell me anything about how I'm going to be prosecuted."
A little confusion is perhaps understandable when it comes to the disorderly house ordinance. For well over a year now, the city has been trying to iron out problems that made enforcement of the ordinance too cumbersome.
But now, city leaders say they've improved their system and people like Stuart will be less likely to slip through the cracks.
Flagging problem homes
In theory, any home where there have been two or more crimes in the past year can be labeled a "disorderly house," and the occupant and owner can be required by the city to fix the problem. As a last resort, the city can shut off the utilities and condemn the property.
Even though the law has been on the books for more than five years, city leaders earlier this year acknowledged no one had ever been prosecuted under it. In recent months, however, the city has made some minor changes to the law and, more important, to its process for tracking which homes are problem spots.
"Before we started taking a good, long, hard look at our system, we weren't putting two and two together to get four," said Scott Miller, a city attorney who advises the police department.
In the past, police would make notes in their computer-aided dispatch system to track where they had given prior warnings for noise violations. But Miller said the department wasn't accessing a municipal-court database that shows with a few mouse clicks where citations have been issued and prosecuted.
"I don't think departments were aware of the tools other departments had," he said.
Since April, the court has been sending a monthly report of citations to both Miller and to an LPD sergeant for review.
It lists, by address, all the places where common nuisance crimes have occurred in the past month - possession of marijuana, minor in possession of alcohol, public consumption of alcohol, battery, urinating in public, furnishing alcohol to a minor, disorderly conduct and disturbing the peace.
A recent report listed about 720 cases.
"When you see five or something (at one address), that just alerts you there might be a problem. Then you have to take a closer look at that address" and delve into the underlying facts, Miller said.
Party counseling
Once a home is identified as a problem, the next step is a "nuisance abatement conference," in which the owner or occupant sits down with the city's legal staff to figure out a written plan that can include any of the following:
¢ Eviction.
¢ Written notification to certain people that they're banned from the property.
¢ Improvements such as fences, security devices or increased lighting.
Miller said his office has begun a process of scheduling five or six conferences for later this summer.
"We've gotten several houses identified as potential violators that could be prosecuted," Miller said. He declined to identify them, however, because they are not technically charged yet under the ordinance.
If someone fails to show for the conference or the agreement falls through, the case can then be sent to city prosecutor Jerry Little for prosecution. But Miller said the ultimate goal is to solve the problem, not prosecute someone.
"Our hope is that they will modify their behavior," he said.
'No parties'
Stuart's case is not one of those with a pending nuisance conference, but he could be coming to the table soon.
The June 3 incident involving his drunken friend, which led to an anonymous noise complaint to police, caused him to be charged with disturbing the peace.
That was one strike against him.
His second strike may have come on June 18. Police were called to the home about 3 a.m. to respond to a fight in progress. Stuart said a group of people had come to the apartment after being at a bar, and that some people who don't live there began scuffling outside.
Stuart wasn't cited at the scene, but police told him they'd send a report to prosecutors for possible charges. So far, he hasn't heard anything.
Stuart said the conference with the city is "a great idea," and he acknowledges he probably deserved tickets in both the June incidents. One thing that bothers him about the procedure, though, is that callers who report noise complaints can remain anonymous.
"They could call about the smallest thing - just because they don't like us," he said.
It used to be that in order for police to take a noise complaint, a neighbor had to be willing to be a complaining witness. But in January 2005, police did away with that requirement and also cut down on the paperwork officers were required to write at the scene of noise complaints.
Lawrence Police Sgt. Dan Ward said the changes have helped the overall picture more than police expected: In the first five months of 2006, noise complaints were down 8 percent compared with the first five months of 2005.
For now, Stuart and his roommates have instituted new house rules: No more than one guest per person at the home at any time.
"There will be no parties here any more," he said.
Copyright 2018 The Lawrence Journal-World. All rights reserved. This material may not be published, broadcast, rewritten or redistributed. We strive to uphold our values for every story published.