Talk about sticking your neck out.
Taylor Made brought a fantastic setup to Alvamar Golf Club on Thursday. In an effort to boost business, the golf-club manufacturer wheeled its launch monitor to Lawrence, along with hundreds of clubs and a decked-out trailer where clubs can be custom-made while you wait.
I was to get my statistics off this gadget and put them in the newspaper for all to see.
Gulp.
Ever seen a launch monitor? It's brilliant, and every semi-serious golfer needs to try one out when given the chance.
Mark Mithuen, who set up and ran the launch monitor, puts four black dots on each golf ball with a marker, then asks the subject to tee up with the dots facing the camera, a white box that's about a yard in front of the ball.
The camera is attached to a laptop, where Mithuen gets statistics from the departing ball and has the knowledge to know exactly what kind of shaft, driver angle and clubhead size would suit the subject's swing.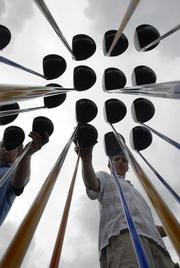 It worked quickly for Julius Williams, a Lawrence resident. His ball speed off the driver was consistently around 140 mph, but his angle, between seven and eight degrees, was too low, and his ball didn't have enough backspin. That can make it knuckle, which will cut down on distance.
After Williams hit three shots, Mithuen knew what to do. He changed Williams' driver from a 9.5-degree to a 10.5-degree face, gave him a stiffer shaft and moved up from 425 to 460 cubic centimeters in clubhead size.
Presto. In an instant, Williams was whacking shots right in the target zone.
"Amazing," he said.
I was getting nervous now. My handicap is in the 20s, but I really don't play enough to pinpoint it. I also lack any sort of consistency off the tee. As Crash Davis said in Bull Durham, "I don't know where it's going to go. Swear to God."
Not wanting Mithuen to pick up that I'm a hack, I tried to get a feel for what he has seen.
What are normal statistics for a good golfer?
He said that for a ball speed of 140 mph, the angle needs to be higher than 111â2 degrees. Backspin should be around 2,900 rotations per minute.
The launch monitor also can estimate how far a ball goes, though Mithuen said the one that came to town Thursday wasn't accurate in that regard.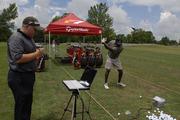 "Sergio (Garcia) only hit it 285 on here," Mithuen said, "when he was clearing the range at 310."
Oh boy. Mithuen has seen pros use this.
While I was waiting in line, Mithuen told a story of monster masher John Daly. Taylor Made's driving range at its company headquarters in Calsbad, Calif., is about 310 yards long, with a road just behind it. To clear the road would take a drive of about 345 yards - a real moonshot, and impossible for 99 percent of the world's golfers to pull off.
Well, Daly came by one day to sign papers for a Maxfli endorsement deal, when he was challenged to try to clear the road.
Words of wisdom
"What other people may find in poetry or art museums, I find in the flight of a good drive." - Arnold Palmer
"If he cleared the road, employees got half the day off," Mithuen said. "He hit about 30, and cleared the road with one of them."
Off to the watering hole, workers!
Williams and Adam Augustine, who drove in from western Kansas to shop for a driver, went before me and had good swings. Now it was my turn. I picked a Taylor Made r7 460 cc driver out of the hundreds available, took my ball and teed off, hitting three shots. Man, the club felt good going through the zone.

My ball speed was about 135 mph, a little less than the two guys before me. My angle was good, around 13 degrees. But my backspin was off the charts, about 4,800 rpms. That almost can cause the ball to back up when it lands.
Not good.
Mithuen, though, was in nice mode. He said the driver I picked out made more backspin inevitable. It's not my fault, he insisted.
Who knows if he was telling the truth. I didn't care. With a high-tech camera and golf gurus watching, I got the ball airborne. The day was a huge success.
Tip
By Jon Zylstra
The downhill lie shot is difficult because the ball is below the normal stance level.
A push or fade is largely the result of not squaring the club face and gravity pulling your swing center ahead of the ball.
Try the following five steps:
1. Play the ball slightly back of middle of the stance;
2. Set-up perpendicular to the ground, but resist being pulled down the hill past the ball;
3. Tilt the shoulders to match the slope of the hill to make it easier to stay with the shot;
4. Allow for the club being delofted, which will cause the ball to go lower, hotter and roll farther;
5. Aim to play the push or fade and take a controlled 3â4 swing following the level of the ground.
- Tipster Jon Zylstra is head golf pro at Lawrence Country Club
This week in golf:
Hole
No. 14, Alvamar Country Club
Par: 4. Yards: 409 (championship tee)
This hole requires some management, so leave the driver in the bag and put some thought into your tee shot. Try to place a 5-wood just left of the center of the fairway. The hole starts as a dogleg left, then bends back to a dogleg right. The potential for trouble, particularly on the right side, factors into No. 14 being the No. 6-handicap hole on the course.
Copyright 2018 The Lawrence Journal-World. All rights reserved. This material may not be published, broadcast, rewritten or redistributed. We strive to uphold our values for every story published.