Chicago — In this city where the skyscraper was born, it is thriving like never before.
Luxury condominium towers and office buildings that climb 600 feet and more are sprouting up all over downtown. Along the Chicago River, the Trump International Hotel and Tower is inching its way up to a planned 92 stories.
Plans are in the works for a nearby 124-story skyscraper, the Fordham Spire, that would knock the Sears Tower from its perch as the tallest building in the United States.
Since 2000, no fewer than 40 buildings at least 50 stories high have been built, are under construction or are being planned.
It's a surge in high-rise construction that hasn't been seen here since the 1960s and 1970s when the Sears Tower, John Hancock Center and other buildings helped give the city one of the most distinctive skylines in the world.
And while there is a flurry of high-rise construction elsewhere in the United States, particularly in New York, Miami and Las Vegas, the tallest of the tall are going up in Chicago. Of the three tallest buildings under construction, two are here, according to Emporis, an independent research group that catalogues high rise construction around the world.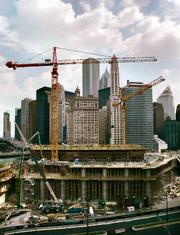 "Out my window there are two, three, four, five new high-rises under construction or just completed in the last year and a half, and they've just announced another 80-story building," said Jim Fenters, who has lived on the 51st floor of a 54-story building overlooking Grant Park since 1979.
One factor that has fed the construction frenzy is the attitude at City Hall. Chris Carley, developer of the Fordham Spire, remembers the time several years ago when proposals for high-rises would prompt city officials to ask about knocking off 10 or more floors. Today, the official attitude is reversed.
"I remember at least two (planning and development) staff members saying 'Can't you make it taller?"' Chicago architect David Haymes says about city discussions for a planned condominium tower.
In exchange for allowing developers to go higher, the city gets buildings that are a lot smaller at their base, allowing more open space and light than in cities crammed with shorter, wider buildings.
That's not to say there aren't concerns, particularly since these projects will cast long shadows.
Still, more than a century after the world's first skyscraper went up in 1885, Chicagoans remain enamored with tall buildings.
Copyright 2018 The Associated Press. All rights reserved. This material may not be published, broadcast, rewritten or redistributed. We strive to uphold our values for every story published.