Danica Patrick will compete in the Kansas Lottery Indy 300 on July 2 at the Kansas Speedway. Her appearance in Kansas City, Kan., will attract a variety of fans.
"Danica crosses that spectrum, in that she has a huge line of endorsement deals appealing to women, but she also has endorsements for men," said Sammie Lukaskiewicz, senior manager of public relations at the Kansas Speedway.
Patrick, 24, has endorsement deals with Secret deodorant, Peak antifreeze, Tissot watches and Argent Mortgage. She also appeals to children from her endorsement with Hostess.
Patrick has become a star. That, along with the 34-year anniversary of Title IX on June 23, left us wondering - is Patrick the biggest female sports star right now?
Several components went into narrowing down No. 1. Sure, overall profit, combined with endorsement deals, were factors in determining starpower, but there were others.
"They have to have believability, honesty and sincerity as well," said Mitch Wheeler, director of sponsorships and events for VML in Kansas City, Mo. "It's not about today. It's about over time."
Athletic ability and performance were also factored. We factored the amount of followers these women generated as well. Candidates didn't have to be active in their respective sport - just highly associated with it.
Photo Gallery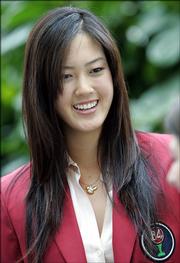 She's got game
All factors considered, Michelle Wie was an obvious candidate. When Wie competed in the 2000 Women's U.S. Amateur Public Links, she became the youngest player to qualify for an adult USGA event at age 10. Wie, 16, nearly qualified to play alongside Tiger Woods and Phil Mickelson in the U.S. Open at Winged Foot six years later.
There's also tennis phenom Maria Sharapova. At 17, Sharapova became the third youngest tennis player to ever win a Wimbledon singles title.
Without leaving you in any further suspense, here are the Top 10 female sports stars of 2006:
1. Michelle Wie
Credentials: youngest player, at 13, to win an adult USGA-sanctioned tournament - 2003 Women's U.S. Amateur Public Links; the youngest player, at 14, to play in a PGA Tour tournament (2004 Sony Open).
Fan interest: had a following of about 3,500 in the sectional qualifier of the U.S. Open at the Canoe Brook Country Club in New Jersey.
Cashing in: Forbes Magazine estimated Wie made $17 million last year. This included separate $5 million endorsement deals from Nike and Sony - annually. That's one way to take care of expensive textbooks and tuition if and when she attends college. Wie also signed a $3 million advertising contract with ShinYoung, Co., a South Korean developer. Wie's parents are South Korean. She turned pro last October, so she didn't make any money playing golf for the better part of 2005. Imagine if Wie actually generated profit from her play on the course.
Marketing perspective: "Everyone views her as a very young, accomplished athlete. I view her as that, but also a very bright lady who understands what she's getting into," said Matt Lalin, executive vice president of Steiner Sports Marketing in New Rochelle, N.Y. "There's no reason to think she won't be getting better every year and continue to be successful."
2. Maria Sharapova
Credentials: 11 singles titles; first Russian tennis player ever ranked No. 1 in the world (2005); Wimbledon singles champion in 2004; Women's Tennis Association Player of the Year in 2004; Russia's tennis federation named Sharapova the country's best female tennis player in 2005.
Fan interest: The 6-foot-2 part-time model appeals to men with her physique and to aspiring women tennis players with her play on the court.
Cashing in: Forbes named Sharapova, 19, the highest-paid female athlete in the world in 2005. She is listed as earning upwards of $19 million per year. A majority of this money comes from her endorsement deals with Nike, Canon, Colgate-Palmolive, Motorola and Land Rover.
Equal pay for equal play?
Putting the money aspect into perspective, these are Forbes Magazine's top-paid male athletes of 2005: 1. Tiger Woods, $87 million 2. Michael Schumacher, $60 million 3. Oscar De La Hoya, $38 million 4. Michael Vick, $37.5 million 5. Shaquille O'Neal, $33.4 million 6. Michael Jordan, $33 million 7. David Beckham, $32.5 million 8. Kobe Bryant, $28.8 million 9. Lance Armstrong, $28 million 10. Valentino Rossi, $28 million
3. Mia Hamm
Credentials: won the NCAA Championship during all of her four years at North Carolina; scored 158 international goals, a record among males and females; two-time Olympic gold medalist (1996, 2004); two-time World Cup Champion (1991, 1999).
Fan interest: Although she hasn't played soccer in two years, Hamm remains one of the most recognizable female athletes in the world. She is known for signing autographs and spending time with fans before and after her soccer games; named one of the 50 most beautiful people in the world by People Magazine in 1997.
Cashing in: Hamm, 34, signed multi-million dollar endorsement deals with Nike, Gatorade, Pepsi-Cola and Nabisco.
Marketing perspective: "To me she just epitomizes women's sports," Lalin said. "Whether you're male or female, if you're not winning with class, corporate America won't be interested in you for a very long time."
Lalin said Steiner Sports Marketing stressed that consistency over time equaled credibility. He said no female athlete has done that better than Hamm.
4. Danica Patrick
Credentials: Placed fourth at the Indianapolis 500 in 2005, causing IRL's TV ratings to jump 49 percent that year; became fourth woman to race in the Indianapolis 500; first woman to ever lead the Indianapolis 500 at one point; placed eighth in this year's Indianapolis 500.
Fan interest: Patrick appeals to men, women and children from her endorsements.
Cashing in: She has more than $1 million in earnings from the track. That's not to mention the nearly $10 million per year in aforementioned endorsements.
5. Annika Sorenstam
Credentials: Eight-time Rolex Player of the Year award-winner; 67 LPGA tour victories, 9 majors; First woman to play in a PGA Tour event since 1945 (The Colonial, May 2003).
Cashing in: Sorenstam's career prize money from the LPGA is around $18 million. Forbes estimated Sorenstam, 35, made $8 million last year, on and off the course - $2 million on the course, and a large portion of the rest from her endorsement with Callaway. Her deal with Callaway is through 2010, according to Forbes.
6. Pat Summitt
Credentials: Who could leave out the all-time winningest coach in the history of Division I college basketball? The Tennessee women's basketball coach has an astonishing 913-177 record (.838 winning percentage) in her 32 years of coaching the program; six NCAA tournament championships; 24 SEC tournament and regular season titles.
Cashing in: In May of 2006, Summitt, 54, became the first women's college basketball coach to earn $1 million per year.
7. Serena Williams
Credentials: 26 singles tennis titles, including seven grand slam singles titles; 2000 Olympic gold medalist in doubles competition (Sydney); defeated her sister Venus five times in separate grand slam singles titles.
Cashing in: Williams, 24, has endorsement deals with Nike, Wilson, McDonald's and Estee Lauder. She made TV appearances on ER and the Bernie Mac Show. Forbes estimated she made $10 million on and off the court in 2005.
8. Venus Williams
Credentials: 33 singles tennis titles, including five grand slam singles titles; 2-time Olympic gold medalist in 2000 (Sydney), one in singles, one in doubles.
Cashing in: The elder sister has endorsement deals with American Express, McDonald's and Wilson. Forbes estimated Williams, 26, made $7 million on and off the court in 2005.
9. Anna Kournikova
Credentials: 13 tennis doubles titles; ranked No. 1 on Nov. 22, 1999 in doubles ranking; named one of People's 50 Most Beautiful People in 1998, 2000, 2002 and 2003.
Cashing in: Forbes estimated Kournikova made $5 million last year, mostly from endorsements with Adidas and Berlei bras. Darren Rovell, ESPN sports business reporter, said Kournikova consistently made more than $10 million per year.
Analysis: Kournikova remains one of the most recognized names in tennis. The reason she wasn't ranked higher was due to her performance on the court. Kournikova, 25, has never won a tennis singles title. Her highest singles ranking was eighth. She is now retired from tennis. Kournikova made the list mostly from her starpower off the court.
"At the end of the day, guys like pretty girls," Wheeler said. "And sex sells. I hope I wouldn't be too naive to think that wasn't a factor."
10. Jennie Finch
Credentials: Three-time All-American pitcher and first baseman for the University of Arizona; set an NCAA record with 32 victories her junior year. If you think that's impressive, Finch didn't record a loss that year; set another NCAA record at Arizona with 60 consecutive victories; won two games in the 2004 Olympics, striking out 13 batters in eight innings' her underhand fastball tops 70 mph.
Cashing in: Finch, 25, has endorsement deals with Bank of America, Sprint, Sealy, 24 Hour Fitness Worldwide, Bolle and Mizuno. Business Week online estimated the Mizuno deal was worth $100,000 per year. She also was an analyst on ESPN for the Women's College World Series and the Little League Softball World Series. USA Today estimated her endorsement deals were worth about $400,000 per year before the 2004 Olympic games.
Copyright 2018 The Lawrence Journal-World. All rights reserved. This material may not be published, broadcast, rewritten or redistributed. We strive to uphold our values for every story published.