Portland, Maine — After gimpy bomb maker Smoke Dugan killed his mafia boss and stole more than $2 million of mob money, he fled New York and wound up in Maine to await the hit men who were sure to beat a path to his door.
Dugan's creator, Bronx-born Patrick Quinlan, 35, followed the same path - geographically speaking - to continue his pursuit of a writing career that began 10 years ago and finally has brought him to the brink of success.
Quinlan's newly published novel, "Smoked," is a fast-paced thriller set in Greater Portland. He finished another novel in the same genre a few weeks ago and is collaborating with Dutch film actor Rutger Hauer on his memoir.
Quinlan wrote four previous thrillers that failed to find a buyer before turning "Smoked" over to his agent; it sold about two weeks later. The book, he says, was "just a little bit better" than the ones before it, and he senses that "something almost mystical" helped it escape the fate of the others.
"I think that there's sort of an order to the universe, and in order to achieve something worthwhile, you have to go through a certain amount of testing," he says during an interview in a park in Portland's Old Port, not far from the hotel where the chief assassin stayed while stalking Dugan.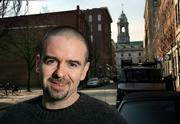 "Smoked" follows Dugan and his girlfriend, Lola Bell, as they scramble to elude a band of hired guns dispatched by the gravel-voiced Big Vito. Dugan, in his late 50s, got caught up during childhood in the Irish gang culture of New York's Hell's Kitchen. Bell, a 25-year-old martial arts expert, spent her youth in a notorious high-rise project in Chicago. The two escaped a nightmarish past that led them to Portland to start new lives. They met when Dugan was making toys for special-needs children with whom Bell worked.
The bodies pile up quickly as the story moves at warp speed, capped by a cinematic chase that begins along the waterfront and moves through the Old Port and past City Hall into downtown before ending in spectacular fashion on the Casco Bay Bridge.
Kirkus Reviews said "Smoked" was "notable for a vintage collection of really rotten bad guys. Characters to care about, even the no-goods. Readers who can tolerate the bloodbaths may be bearing early witness to the arrival of a major talent."
The Mysterious Bookshop in New York, which specializes in mysteries and thrillers, selected "Smoked" as its top debut novel for April and predicted that Quinlan has a promising future. "He's got a great writing style. He really knows what he's doing," said Ian Kern, the store's hardcover manager.
Copyright 2018 The Associated Press. All rights reserved. This material may not be published, broadcast, rewritten or redistributed. We strive to uphold our values for every story published.