Now go out and get yourself some big black frames
With the glass so dark they won't even know your name
And the choice is up to you cause they come in two classes:
Rhinestone shades or cheap sunglasses.
- "Cheap Sunglasses," by ZZ Top
These lines by the famously bearded rockers make tidy rhyming lyrics, but the 1979 tune clearly only foresaw part of the future.
"Two classes" hardly reflects the mind-boggling variety of sunglasses styles being worn today by everyone from A-list celebrities to downtown Lawrence road workers. Dark represents only one hue on a lens-tint menu that ranges from mirrors to pastels, fades to transitions. And anonymity rarely seems to be the goal of those donning some of the more outrageous specs on the market.
But ZZ Top got one thing right: Big is in.
Photo Gallery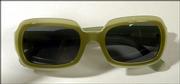 Made in your shades
"They just look cool," says 17-year-old Amber Bailey, her gradient-tint, rimless wraps pushed back onto her head. "And they serve more purpose: The bigger they are, the more sun they keep out."
Throwback aviators also are flying off the shelves this season, says Megan Garren, optical manager at The Spectacle, 935 Iowa - and not just for men. Gals often add a feminine flair by modifying the style with pink lenses or white frames.
Another trend: More and more people seem to be wearing sunglasses.
"I've been doing this about four years, and I've seen an increase in people wanting to wear sunglasses," Garren says. "I think it's partly style. It's really the big trend anymore to have sunglasses.
"And I think maybe opticians and people who sell sunglasses are educating people a little bit better than they have in the past about the benefits of wearing them besides just cosmetics."
Finding frames
Here are some tips for finding sunglasses that complement your face shape: Round faces: Look for square or rectangular frames or shields to balance them out. Heart-shaped faces: Go with the "less is more" theory. Oval faces: You can wear most any style, so feel free to experiment with the latest trends, such as the avant-garde aviators or oversized plastics. Square faces: Remember, contrast is key. Source: Sunglass Hut
Protecting your peepers
Indeed, eyes require as much "sunscreen" as healthy skin. Blocking out harmful UVA and UVB rays can ward off cataracts, cornea burns, skin cancer around the eyelids and other eye disorders, says Dr. Elizabeth Crandon, an optometrist with Crandon & Crandon, 1019 Mass.
"Definitely you want to look at the label and make sure that it's stated that it's 99 to 100 percent UV protected," she advises. "It's not the color (of the lens). You could even have a pair of clear glasses that are 100 percent protected."
Parents should be especially conscious of shielding their children's eyes from the sun because their young lenses are crystal clear and more susceptible to damage, Crandon says. If you can't get them to wear shades, a wide-brimmed hat can help, too.
From a medical perspective, Crandon couldn't be happier about the Jackie O.-sized frames in vogue these days.
"Some of the smaller glasses will allow a lot of UVA and UVB through - just around the lenses and the sides," she says.
The level of protection doesn't necessarily increase with the price tag, she points out, although cheaper sunglasses may sacrifice lens quality.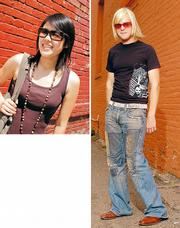 But they do the trick for Pete Winkler, a 22-year-old Lenexa waiter who tends to buy a new pair of shades every few weeks.
"Because I leave them on the car seat and sit on them," he says, noting that he's worn aviators ever since a family member gave him a pair of military-issued specs in that style. "Plus, I have a huge head, so anything else just looks funny."
He spent $13 on the pair he's wearing.
Sport vs. sophistication
That's about what Amber Dooley, a 2006 Lawrence High School graduate, is willing to fork out. She snagged her slightly more girly aviators during a recent trip to New York.
-->
"I was in Chinatown, and ladies just come up to you and say, 'Gucci? Louis Vuitton?' That's where I got them. They're knock-off Guccis," she says. "I'm not going to pay $300 for a pair of sunglasses."
Dooley admits she doesn't think much about eye health when she slips on her shades.
"I don't like to squint," the 17-year-old says. "It causes wrinkles."
Guys who shop at The Spectacle tend to be less concerned with what Paris Hilton is wearing and more interested in tracking down sporty, active styles, says Garren, the optical manager. Men spend a lot of time browsing the store's extensive Oakley selection.
But that's also the brand Mallory Richardson opted for when she picked up a new pair of sunglasses in December. The dark-tinted, brown rectangular specs are large enough to cover her upper cheek bones and wrap around her temples. They're dressier, she says, than her smaller blue sporty pair.
"I wore those to my sister's graduation, and it looked kind of doophy," says Richardson, a 21-year-old KU student. "I want something a little more sophisticated, something I can wear to work."
As for sunglasses with cat-eyed and rhinestone-studded frames? Garren carries them in her store.
"But it hasn't gone over as well as I thought it might, based on what I've seen in the magazines," she says. "We still live in the Midwest, after all."
Tint hints
Prefer practicality over appearance? Here's a rundown of sunglass tints and their effects, according to the Sunglass Association of America: ¢ Gray or green: Great for clear days with bright sunlight and general use. These offer the least amount of color distortion, good contrast and high visible-light reduction. ¢ Brown/bronze: These offer contrast and are ideal for low-light conditions. They can increase depth perception and are useful for hazy driving days as well as outdoor sports, from hiking to tennis. ¢ Yellow: These decrease haze and sharpen objects/increase contrast. Many tennis players and target shooters use yellow tints. ¢ Rose/pinks: High contrast, good low-light resolution, useful in hazy, foggy or overcast days and for those who like to "see the world through rose-colored glasses." ¢ Blue: These allow in the maximum amount of blue light and are useful for a wide range of sports, including tennis, golf and winter sports.
Copyright 2018 The Lawrence Journal-World. All rights reserved. This material may not be published, broadcast, rewritten or redistributed. We strive to uphold our values for every story published.