Ribbon roping might sound like a knitting technique taught at an arts and crafts fair.
But there's absolutely nothing dainty about it.
Ribbon roping was one of the main events at Saturday's Women's Ranch Rodeo Assn.'s Qualifying Rodeo at Stinson Creek Cattle Co. near Stull.
At the rodeo, 11 four-woman teams competed to earn a spot at the National Finals October 22 at Kemper Arena.
Events included calf branding, sorting, trailer loading and doctoring.
During the ribbon roping event, each team had to rope and wrangle a young steer to the dirt. A few teams couldn't do it in the three-minute time limit.
But Madison Cattle, a team from Fort Scott, pulled it off in no time flat.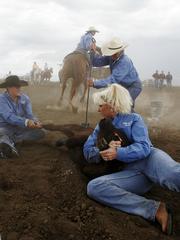 The team, dressed in pink shirts, blue jeans and cowboy hats, burst through the gate on galloping horses.
As they whipped lassoes over their heads, the women zeroed in on their target: a young but hefty steer with short, spiky horns. Within 36 seconds, Nicki Traul cornered the steer, jumped out of her saddle and pinned him to the ground.
But only after the steer had knocked her around a few times.
"I've hit the ground a lot worse," she said as she brushed dirt from her pink shirt.
Ranch rodeos are different from other rodeos because the events are based on things ranchers would actually do on the job, like rounding up cattle. Because ranchers wouldn't usually ride around on bucking bulls, bullriding isn't a ranch rodeo event.
Ten years ago, all-female ranch rodeos were scarce. But today they're more popular than ever, said Terri Lewis, a rodeo competitor on the Division Ranch team from Strong City.
"They've been around for about seven years, but they're just now starting to spread," Lewis said, adding that female ranch rodeos have been recently featured in Western Horseman magazine and the Web site for The American Quarter Horse Assn.
Lewis said her team competes about once a month in ranch rodeos all over the Midwest. During the week, she's a substitute schoolteacher in Council Grove.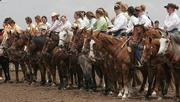 She and her husband own a 5,200-acre ranch in the Flint Hills, and every now and then she invites "the girls" over to rope cattle.
"A lot of the women are teachers, bankers, accountants ... but then they come here and compete," Lewis said.
She added that rodeo fans don't see female rodeo competitors as inferior to their male counterparts.
"I think we get just as much respect, if not more," she said.
Josh Henning, who watched Saturday's women's ranch rodeo from the sidelines, competes in men's ranch rodeos regularly. He said there are few differences between men's and women's rodeos.
In some events, he said, the women are allowed more rope tosses. And in an event called trailer loading, the women stay on their horses, whereas the men wrestle the steers into the trailer.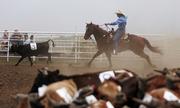 He added that "the view's a lot better than at a men's rodeo."
At Saturday's event, fans sat in lawn chairs upwind of the dirt rodeo pen. Most of them brought lawn tents, which provided shade from the hot sun and cover from the on-and-off sprinkling of rain.
About 100 fans spurred on the teams with cheers and whistles. But at this rodeo, the competitors cheer on one another, too. Henning said that sense of camaraderie was something you don't get at men's ranch rodeos.
That, Traul said, is what makes female ranch rodeos unique.
"It's just fun. It's fun to be around other women who like to do what you like to do," she said.
Copyright 2018 The Lawrence Journal-World. All rights reserved. This material may not be published, broadcast, rewritten or redistributed. We strive to uphold our values for every story published.