Brian Ledbetter wanted that spot. It was the Lake of the Ozarks Bass Fishing Tournament, and he knew exactly where to position his boat - at a hot spot for fish he found four days before the tournament.
The scouting report did not pay off.
"In trying to cut the corner to beat a guy to the spot, I ripped the whole end of the boat off," Ledbetter said.
Despite totalling the boat, the McLouth resident competed in the tournament.
"You couldn't use the motor to get where you needed to get," Ledbetter said. "You just had to fish where you were at. I think I caught two keepers and that was it."
Ledbetter, 28, said he typically caught six fish in bass tournaments.
Ledbetter said he hadn't fished in tournaments in seven years. But it wasn't because of the incident in Osage Beach, Mo.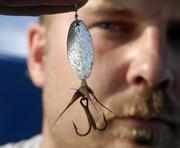 Ledbetter, a fisherman for more than 20 years, found a new passion during his trips to Clinton Lake. He often takes his children - Elizabeth, 10, Austin, 10, and Paige, 6 - with him.
"It's great, it gives you family time, and you're passing on something to them that their grandparents passed to me," Ledbetter said.
In speaking to Ledbetter, you can tell he's a humble and stoic individual. Standing in his metallic blue Ranger bass boat, he didn't show much emotion. It didn't take much emotion, though, to see how much he cared for his three children.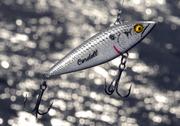 After all, he said his proudest fishing moment was not when he caught a 140-pound marlin in the Gulf of Mexico.
"Probably the best moment I had was my boy, when he was 7, caught a 29.5-inch walleye at Clinton Lake," Ledbetter said of Austin's catch.
Ledbetter also fishes with Tonganoxie resident Mike Triplett. Triplett, 46, has known Ledbetter for six years. He said they usually fished with artificial bait, as opposed to live bait, at Clinton Lake. The artificial bait looked like plastic tubes.
"We have a whole lot of confidence in our ability to find fish with jigs," Triplett said. "When you use artificial lures, you have to find the fish and put it in front of their faces. It's more of a challenge."
Ledbetter said with artificial bait, he had to jig, reel and position the bait more carefully than with live bait. He said fishermen throw live bait into the water to let it sit until fish catch onto it.
Ledbetter said he fished in approximately 15 different lakes in four states. He's had his current boat, which cost him $8,000, for six years.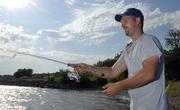 The Richland, Mo., native, who has lived in Kansas for six years, is also involved with hunting. He's currently building a $5,000-$6,000 hunting cabin in Western Kansas.
Ledbetter takes part in upland game hunting, for pheasants, quails and prairie chickens. In this type of hunting, Ledbetter said a dog smells where the prey is located. Then, after the gun is fired, the dog sniffs out the prey and retrieves it to the hunter.
That led to the big question for Ledbetter: hunting or fishing?
"When the crappie fishing's good, I like it, but I probably enjoy the upland game hunting more, because it's a dog that I trained that I get to watch do what it's designed to do," Ledbetter said.
Copyright 2018 The Lawrence Journal-World. All rights reserved. This material may not be published, broadcast, rewritten or redistributed. We strive to uphold our values for every story published.