It's lawn-care season. Did you know the first mower was invented about 1830 in England? In the United States, lawn mowers were improved and patented frequently after the first horse-drawn mowers of 1868. Newer mowers were run by steam or gas engines until finally, in 1899, the push-it-by-hand mower for home use was patented. Sprinklers were patented in the United States by 1897. There are collectors of mowers and sprinklers, and some of the early examples are very high-priced. There are sprinklers shaped like turtles, alligators, ducks, frogs, mermaids and even a cowboy with a lasso that date back to the early 1900s. These painted iron sprinklers sell for hundreds of dollars if the paint is in good condition. The figural sprinkler has remained popular. Today you can find new sprinklers shaped like SpongeBob Squarepants, "Star Wars" characters or the Little Mermaid for less than $30.
Even plastic sprinklers from the 1960s are collectible. Look carefully around your grandmother's garage. There might be a gardening treasure like a sprinkler hiding in a corner.
Q: I was born in 1942 and still have a framed color print I was given as a child. It shows a little blond boy helping a redheaded girl put on her shoe. The artist's name, Ruth E. Newton, is printed in black on the bottom right corner. What can you tell me about the artist?
A: Ruth E. Newton (1884-1972) attended the Philadelphia School of Fine Art before beginning a long career as an illustrator of children's books. She illustrated more than 40 books, many for the Whitman Publishing Co., and also designed greeting cards and dolls.
Q: I have become fascinated with a Victorian paper craft I recently saw demonstrated on television. It involved using cut and coiled paper strips to make shapes that could stand alone or be glued onto stiff paper. I don't remember what the craft is called. Can you help? I would like to learn how to do it.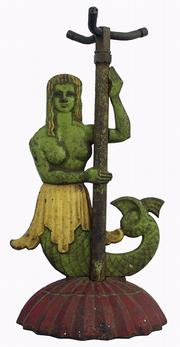 A: We think you saw a demonstration of paper quilling. It's also known as paper filigree. The craft probably dates back 500 years, but it became a popular pastime among fashionable ladies in America during the Victorian era. The hobby has recently had a resurgence in popularity. You can buy books about it or find instructions online, but here's a quick lesson: Tightly roll thin strips of paper around a feather quill or pencil, one strip at a time (the Victorians liked strips with colored edges). Gather the rolled strips together and make designs with the paper rolls. The designs will look like filigree.
Q: My Raggedy Ann and Andy dolls have tags that say "Knickerbocker Toys, Rep. China." Can you tell me how old they are?
A: Raggedy Ann started life as a character in a 1918 children's book by American author Johnny Gruelle. The popularity of the book, titled "Raggedy Ann's Stories," led to the manufacture of Raggedy Ann rag dolls. The first dolls were probably made by Gruelle's family, but he soon sold exclusive rights to both Ann and Andy dolls to his publisher, Volland. Licensed manufacturers have changed over the years. Knickerbocker owned the rights from 1962 to 1982. "Rep. China" stands for the Republic of China, better known to us as Taiwan.
Q: I can't find the value of a globe that has been in our family for some time. It sits in a three-legged wooden frame, 34 inches high by 19 inches in diameter. There's a compass mounted near the bottom of the frame's curved legs. The globe's map is out of date, and there's a brass tag on it that reads "George Philip & Son Ltd., Globe Makers, 32 Fleet Street, London EC."
A: George Philip & Son, founded in 1834, is known simply as Philip's today. It's located in the Queen's Park area of London and can be found on the Web at www.philips-maps.co.uk. Philip's publishes atlases, reference books and maps, including globes. The address on your globe includes a London postal code, EC, which stands for the East Central area of the city. Postal codes were first used in London in 1857; numbers were added to the codes in 1916. So your globe was made sometime between 1857 and 1916. Check the cartouche on your globe to see if it mentions a second company. Philip's first published globes in the middle of the 19th century, but the maps on its globes were made by Malby & Son or Charles Smith & Son until about 1900. After that, Philip's published globes under only its own name. Also, check the map itself to narrow down its age. Country and state names and borders change, so if you compare your globe with period maps, you'll be able to date it more precisely. We have seen Philip's floor globes for sale at prices ranging from $2,000 to $45,000, depending on age, condition and frame style and quality.
Tip
Store a chain necklace completely extended, with no knots or kinks. A fragile link could break if stressed.
Current prices
Current prices are recorded from antiques shows, flea markets, sales and auctions throughout the United States. Prices vary in different locations because of local economic conditions.
¢ Depression-glass tumbler set, Hobnail pattern, chrome holder, Anchor Hocking, 16 oz., 8 pieces, $45.
¢ Donny Osmond doll by Mattel, costume, microphone, Osbro Productions, original box, 1976, 12 inches, $85.
¢ Oklahoma Cattlemen's Meet pinback button, celluloid, Guthrie, Feb. 14-16, 1905, bull and cow dressed up in clothes, walking to town, 1 3/4 inches, $110.
¢ Coca-Cola tray, girl with red-and-white-striped umbrellas and white raincoat, holding bottle of Coke, 1950s, 10 x 13 inches, $195.
¢ Metlox pottery carafe, red rooster pattern, cover, warmer, wooden handle, 7-cup capacity, $210.
¢ Indianapolis 500 auto-race pennant, red border, green ground, car and driver, felt, 1914, $300.
¢ American classical footstool, mahogany, rectangular needlepoint cushion, molded frame, ogee feet, casters, c. 1830, 16 x 24 inches, $470.
¢ Addison radio, Model 5E, Catalin, tube, marbleized brown and butterscotch, c. 1940, $800.
¢ Mechanical bank, "Patronize the Blind Man," dog grabs coin from blind man and deposits it in building, J. & E. Stevens, patented 1878, 6 5/8 inches, $2,875.
¢ Sterling-silver serving tray, Plymouth pattern, 2 handles, oval, Gorham, 1914, 24 x 18 inches, $3,055.
Copyright 2018 The Lawrence Journal-World. All rights reserved. This material may not be published, broadcast, rewritten or redistributed. We strive to uphold our values for every story published.