Washington — If it weren't for a small but loyal group of customers, Channara Keam would stop selling premium gasoline at his College Park, Md., station. Sales of the high-octane fuel are down almost 25 percent over the past year, he said, and it no longer produces the kind of profit margins that dwarf those of lower-grade fuels.
"People are still buying it, but not much at all," said Keam, 42. Sales of regular unleaded gas increased 25 percent during the same period. "People don't want to pay the high price."
Gasoline sales figures show that drivers are forsaking the higher price in unprecedented numbers. After years of decline, the market share for premium gas dwindled to the single digits last year. Some analysts expect the drop to be more pronounced this summer, as the gap widens between the prices of regular and premium gasoline.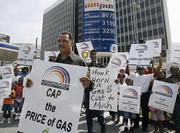 The demand for the top-grade fuel has steadily declined over the past two decades. In the 1980s, premium gas regularly captured market shares of more than 25 percent, according to the Energy Information Administration. But as prices steadily rose and automotive technology improved, the market share of premium gas fell, to about 15 percent by the late 1990s.
Premium gas can prevent an engine from knocking, but fewer cars need it because newer vehicles are equipped with sensors that adjust the engine to the grade of octane in the gasoline, automotive experts said. Higher-octane gas can increase performance in some cars under certain conditions but will make no discernible difference in most cars, they said.
Copyright 2018 The Lawrence Journal-World. All rights reserved. This material may not be published, broadcast, rewritten or redistributed. We strive to uphold our values for every story published.