Matt McClorey doesn't just advise scientists, engineers and computer programmers how to turn potentially market-shifting visions into business realities.
He's a management consultant who actually gets to work.
"Others say, 'Go do it,' but Matt doesn't," said Ted Haggart, chairman of the Lawrence Regional Technology Center, where McClorey works as president and chief executive officer. "Matt gets right down in the trenches with them and rolls up his sleeves and gives them some legal guidance, some intellectual property guidance, market guidance, finance guidance. He and his staff continue to work with that company, and that's big."
How big?
Since McClorey assumed the post four years ago, investments into promising bioscience startups in the Lawrence region have approached $50 million - the kind of money that just might help develop the next big treatment for cancer, advancement in fighting Alzheimer's disease or other industry- or life-improvement products or services.
Ideas for such advancements often come from scientists and others whose expertise resides in the worlds of medicine, pharmacology, chemistry and other highly technical disciplines.
"Many times they're brilliant - they know drug-delivery backwards and forwards, they know software programming backwards and forwards, but they sometimes don't have the business skill set to know about how to form a company, to build that company and grow that company - everything from forming the company to selling the product."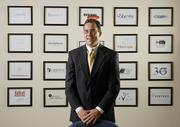 That's where McClorey and his staff at the technology center, 1617 St. Andrews Drive, come in.
Adviser to CFO
McClorey oversees operations at the high-tech incubator, where a handful of startup companies share office space, a conference room and, when necessary, office staff. The center's own employees - Michael Stalker, director of client services; Elizabeth Bennett, director of financial services; and Kerri Johnson, office manager - support the center's operations, which in turn take the back-office pressure off companies that already have enough to do coming up with evolving technologies in an ever-competitive environment.
McClorey himself is so involved in his clients' operations that he's even serving as interim chief financial officer for one of them: CritiTech, a spin-off from Kansas University's Higuchi Biosciences Center.
"He gets in there and just pitches until he wins," said Sam Campbell, who is CritiTech's president and CEO and has investments in about 10 life-science efforts in the area. "He's excellent. He's not only very knowledgeable, but he follows through on the implementation. I've never seen anybody like him in this type of position. He's just phenomenal."
Just 2 1/2 years ago CritiTech was broke, carrying "substantial debt" and developing drug technologies without a single client, Campbell said. That's when Campbell got involved, and McClorey took a more active role in the company's work.
Last week CritiTech added three more clients to its growing list of companies interested in the company's ability to boost the solubility of medicines. The company is hoping to start human clinical trials by the end of this year for its reformulation of Paclitaxel, a $1 billion drug that fights ovarian cancer.
CritiTech's reformulation, called Nanotax, carries the same effectiveness but without harmful side effects, Campbell said - just one of many promising advances to be advancing in large part because of McClorey's business expertise.
"Each piece is a challenge," Campbell said, of manufacturing, regulatory and other arrangements that are part of the product pipeline. "It's not easy for a small company to do, but we're getting it done. And we're getting it done because of people like Matt."
Experience pays off
McClorey came to the technology center from one if its financing partners, the Kansas Technology Enterprise Corp., where he had worked as vice president of business development and portfolio management. In that role, he evaluated startup companies for seed capital investments and managed a portfolio of high-technology debt and equity investments, drafted and negotiated investment agreements and provided management consulting services to portfolio companies.
He previously worked as a senior consultant for Deloitte Consulting, working with Fortune 500 companies on strategy and information technology issues. McClorey earned his law and master of business administration degrees at Kansas University.
McClorey enjoys putting his education, experience and enthusiasm to work at the center and through its clients. And he works with the center's financing partners - KU, Lawrence Chamber of Commerce and Lawrence and Douglas County governments - to help identify the best prospects for job growth.
During the past four years, the center's clients have created a total of 77 jobs, established 37 full or provisional patents and generated millions of dollars in private capital for research and operations. Employees of the center's clients earn an average of $58,780, about $30,000 above the median for Douglas County.
The results are promising indicators as the Lawrence area strives to become a major player in bioscience circles, said Haggart, who chairs the center's board and is president of Douglas County Bank.
Each time a new or spin-off company prospers in Lawrence, he said, more may follow and create a "critical mass" for attracting more high-growth companies and fostering their high-paying jobs.
"Being able to build and put together that kind of critical mass that then serves as a magnet - that takes extra-special people, and extra effort," Haggart said. "And that's why Matt is so important and so key in what we're doing here."
Copyright 2018 The Lawrence Journal-World. All rights reserved. This material may not be published, broadcast, rewritten or redistributed. We strive to uphold our values for every story published.