The Lawrence Community Shelter is aggressively pursuing a plan to move from its downtown location into a vacant nursing home in southwest Lawrence.
Shelter leaders are looking to purchase the former Lakeview Manor Nursing Home at 3015 W. 31st St., which recently closed after regulators terminated its Medicaid and Medicare contracts.
Loring Henderson, the shelter's director, said the 22,000-square-foot building and the 7 acres of real estate would allow the shelter to expand from serving approximately 20 people per night in its current location to about 100.
"I think this is going to be as good of a situation as we're ever going to find," said Henderson, who noted the property already was on the city's bus route. "I'm very excited about the possibilities. I think we all ought to be jumping up and down about this."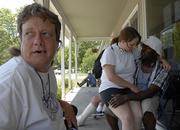 The building has a $2 million asking price. Henderson said the shelter would have to launch a fundraising campaign to purchase the property. He will ask city commissioners on Tuesday night for either a $50,000 loan or grant to help the shelter secure an option to purchase the property, which would give the shelter the exclusive rights to purchase the property.
Mayor Mike Amyx said the city would listen, but he stopped short of supporting the project.
"The biggest thing I have to understand is exactly what we're looking at in terms of city participation," Amyx said. "It brings up a lot of questions about the city's future involvement in the shelter."
Henderson has been looking for a new location for the shelter - which is located at 944 Ky. - after complaints from neighbors and downtown merchants have grown. Several neighbors have complained of loitering and trespassing issues related to the shelter's occupants.
"The amount of space around the building gives us comfort that the people will be in the building or near it," Henderson said. "They may have to go up the road. They may walk to Target or to Cottonwood. They will be visible. But we think there will be a lot less hanging around outside the property."
Most of the housing in the Lakeview Manor area is on the north side of 31st Street. Several neighbors said they were withholding judgment about the proposal.
"I don't have anything against the homeless shelter as long as I think the neighborhood will be safe," said Janet Stallard, who lives on West 30th Street, across from the nursing home. "We do have a very safe neighborhood now. There are lots of people who walk early in the morning and late at night."
Others, though, said they had real concerns. Tim Sanders, who also lives on West 30th Street, said: "If they have had problems with 20 people, what is it going to be like when they have five times that many people? Are we just going to shift and expand the problem?"
"For me, I would love to see it get out of downtown," said Randy Dyke, who had been homeless in Lawrence for nine months before finding a home about a year ago. "But there are a lot of people, some of the heavy drinkers especially, who wouldn't want it to leave."
Some neighbors of the downtown shelter were pleased to hear that shelter leaders were looking to move.
"I'm encouraged in two different ways," said Phil Hemphill, who lives near the shelter. "The second is it looks like it could be moving out of my neighborhood."
Lake View Manor
If a deal for the nursing home property is struck, it would be the second major homeless service provider to leave downtown. Salvation Army leaders are raising money to move their shelter, church and service center from 10th and New Hampshire streets to a site near 19th Street and Haskell Avenue.
Henderson said the nursing home site would come equipped with beds and other necessary equipment that would make it close to a "turnkey" operation for the shelter. It also includes a commercial kitchen that would allow the shelter to offer a full-scale meal program.
In a memo to city commissioners, Henderson said that the larger building could require the hiring of three new full-time employees, and that utility bills for the larger place could be about $5
Copyright 2018 The Lawrence Journal-World. All rights reserved. This material may not be published, broadcast, rewritten or redistributed. We strive to uphold our values for every story published.