The skies above Lawrence droned with the sound of low-flying planes piloted by women competing in the Air Race Classic on Thursday.
But the free air show wasn't appreciated by everyone.
Thomas Pettus-Czar, a retail worker at Hobbs, 700 Mass., said he was enjoying a drink at The Bourgeois Pig, 6 E. Ninth St., when a plane flew over. He described the sound as "a lawnmower falling onto my head."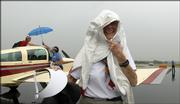 Pettus-Czar said that at the time he didn't know why the planes were flying so low or why there were so many of them.
"They all look the same to me, so I thought it was the same plane," he said.
Thirty-two teams competing in the race made pit stops in the past two days in Lawrence to refuel and tune up their planes before continuing on to the final two stops in Minnesota and Michigan.
Lloyd Hedrick, owner of Hedrick Air Services, 1930 Airport Road, said that the pit stops have gone smoothly, with no malfunctions or mishaps.
He added that the reason the planes seem so loud is because of their low altitude and high speed.
"We put it to the wall, which means we put it absolutely full-throttle the whole time," Strubeck said.
Five teams, including Strubeck's, stayed in Lawrence Thursday night before flying off to complete the last two legs of the race.
Pilot Fran Strubeck said that flying faster than she normally would was what made the race exciting.
But they didn't all stay by choice.
Photo Gallery

Air Race
Strubeck said that unfavorable winds and looming thunderstorms caused her team to call it quits Thursday afternoon.
"Some of the gals got out. But it looked like, in my mind, that they had to thread the needle a little bit," Strubeck said.
She added that today's weather should offer the five teams better winds to carry them through the end of the race.
Copyright 2018 The Lawrence Journal-World. All rights reserved. This material may not be published, broadcast, rewritten or redistributed. We strive to uphold our values for every story published.