Lawrence will become the air race version of a pit stop this week for nearly 40 planes participating in the world's only all-woman piloted transcontinental air race.
The planes will take off this morning in Mesa, Ariz., to begin the 30th annual Air Race Classic and fly to Menominee, Mich., where they are expected to land Friday.
Lawrence is one of the cities where the planes will land for refueling and where their two-woman crews can get refreshments and possibly spend the night. It is possible the planes will probably land at various times in Lawrence on Wednesday and Thursday.
"It's hard to tell when they will arrive," said Dorothy Dickerhoof, a Manhattan woman who will be in town next week assisting with the race operations at Lawrence Municipal Airport. "They have to be on the ground before sunset. It's all going to depend on weather and winds."
Other stops along the route will be in Santa Teresa, N.M.; Ozona and Bryan, Texas; Bastrop, La.; Ada, Okla.; and after Lawrence, Albert Lea, Minn. The stops are about 300 miles apart.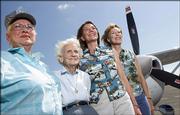 A group of volunteers will be at the airports along the route, timing the planes as they arrive. The planes are stock or minimally modified, fixed-wing models, and most if not all will be single-engine with 145 to 570 horsepower.
Women of all ages and backgrounds will compete in the air race, Dickerhoof said.
There are at least three teams from Kansas: two from Wichita and a combined team from Kansas State University and Salina. There are no teams from the Lawrence area.
Lloyd Hetrick, of Hetrick Air Services, the firm that manages the Lawrence airport, said he was called last year to see if the airport would be a stop on the race route. Hetrick said he didn't know why Lawrence was selected, but Dickerhoof said the race has been moving to smaller airports away from congested cities. The sites chosen, however, must have good maintenance and refueling facilities and local people who know how to handle them, she said.
Airport employees will be busy, as will volunteers working with Dickerhoof.
"There's only four days in the race, so there's a good chance that we could have 60 to 70 percent of them spending the night here," Hetrick said of the crews. "We're also trying to take care of snacks and water for them, and see if they want a meal."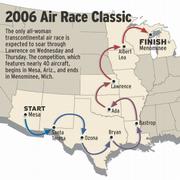 Volunteers might be needed to help with transportation to motels or to restaurants, Dickerhoof and Hetrick said. Anyone available to be driver for the crews can call Hetrick Air Services Inc. at the airport and have their name put on a list. The number is 842-0000.
The air race began in 1929 and used to be known as the Powder Puff Derby of air races. Native Kansan Amelia Earhart flew in that first race, which attracted 20 women and lasted eight days on a route from Santa Monica, Calif., to Cleveland.
Pilots use daytime visual flight rules. Current scoring techniques have each plane assigned a handicap speed, and the goal is to have the actual ground speed be as far over the handicap speed as possible, according to the race Web site, airraceclassic.org. That allows the pilots the latitude to "play the elements" and use weather and winds to their advantage. Planes must land by dusk. The objective is to fly the perfect cross-country route. Final standings are not released until the final entrant has finished. The last arrival could even be the winner.
Dickerhoof flew in the race once, about 30 years ago. It was a learning experience, she said.
"There's a lot of strategy to these races, and usually it's won by the ones who have the most experience," she said. "I finished in the middle of the pack, and I felt very good that I finished and that I had no penalties assessed."
For more information about the race and to track its progress, go to the race Web site.
Copyright 2018 The Lawrence Journal-World. All rights reserved. This material may not be published, broadcast, rewritten or redistributed. We strive to uphold our values for every story published.