Here he was, at long last.
Mr. Globetrotter, Michael Lee, in the flesh and back in Lawrence to play a pickup game for participants in Bill Self's basketball camp Wednesday.
This was Lee's stage to shine, to be a ham and play some ball with old Kansas University teammates at the same time. It's his first trip back to Lawrence to play hoops since signing with the Harlem Globetrotters, a legendary traveling team that combines basketball with comedy, often doing amazing stunts with the rock.
So how did the former Jayhawk create a buzz on this day? Did he spin a basketball on his elbow? Punch a ball with a closed fist at halfcourt, straight through the basket with a swish? Do the moonwalk at the free-throw line before swatting a shot blindfolded, taking a bow and leaving Horejsi Center to do a cameo on Scooby-Doo?
Sadly, no. Lee played fundamental basketball Wednesday. And on top of that, Lee, Mr. Globetrotter, was on the losing team.
Zoinks! Like hey, Scoob, that wasn't supposed to happen, was it?
"I told them they weren't going to win, there was no way they were going to win," Lee said of pre-game trash-talking between the old-timers and the current team.
Photo Gallery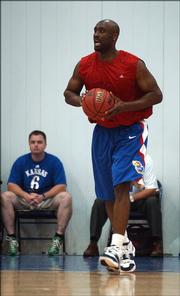 KU scrimmage 06-21-06
Spoken like a true member of the Globetrotters, who once won 8,829 games in a row.
Lee, we now know, is no fortune teller. But this, in fact, was a serious break that Lee needed from his entertainment-first- fundamentals-second world of the Globetrotters. Besides, Lee hasn't exactly perfected the shot between the legs from the OTHER three-point line. He didn't want to show any razzle-dazzle rust in front of hundreds of campers who idolize him.
"There's a competitive part to the Globetrotters," Lee said. "But at the same time, I learn a lot of tricks that, historically, have amazed a lot of people. Like how to shoot a half-court hook shot. Stuff I never thought I would practice."
It takes practice to make perfect. That's why Lee's no Meadowlark Lemon - yet. Lee's former KU teammate, Aaron Miles, went to see him play earlier this year and saw nothing flashy, although "he did dance out there."
"I'm still basic," Lee said. "I'm almost a master of the half-court, underhand scoop shot. But I wouldn't call myself a trickster yet.
"Guys that have been there six and 10 years? They're spinning the ball off their nose and kicking the ball in the basket. It's amazing."
Lee leaves Monday for Europe, where the Globetrotters will go perform for soldiers overseas. He signed on only for a year, but who knows? Maybe the next time he comes back to Self's camp, he'll have that 40-foot hook shot down - and a nickname reserved for Globetrotter veterans who make so many people happy.
"I've never had a nickname as long as I've been alive," Lee said with a laugh.
That could change soon. Just don't expect the moniker to be "Miss Cleo."
Copyright 2018 The Lawrence Journal-World. All rights reserved. This material may not be published, broadcast, rewritten or redistributed. We strive to uphold our values for every story published.