Don't blame any high school baseball players for looking at Kyle Brouhard and muttering under their breath that life's not fair.
It wasn't enough that Eudora High's senior shortstop already had a slick glove, a strong arm and a powerful bat, all tools that garnered the affection of junior-college coaches across the state.
As if his school record for homers (4) and RBIs (47) weren't enough, as if his 17 extra-base hits didn't do enough damage to the opponents' collective psyche, he found one more way to toy with them during his final campaign.
Looking to ease coach Dirk Kinney's concerns about a short-handed pitching staff, Brouhard toed the slab every third game to the tune of a 9-0 record - tied with teammate Kelson Boyer for another all-time Eudora best - a 1.88 earned-run average and 61 strikeouts.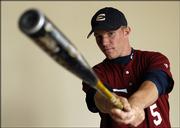 Such well-rounded dominance made Brouhard the alpha dog on a senior-stacked Eudora squad that finished 24-2, qualified for its first Class 4A state tournament and left Salina with the silver trophy after a title-game loss to Kansas City Ward.
It also made Brouhard a clear-cut choice as the All-Area Baseball Player of the Year.
"It wasn't about me. It was mostly about the team wanting to win," said Brouhard, when asked to look back over his stellar senior season. "The 'I,' that didn't come up. It was a 'we' thing.
Photo Gallery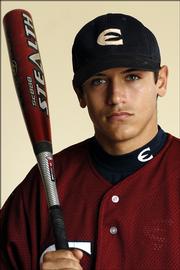 All-Area Baseball
The All-Area baseball team was selected by The Journal-World sports staff and is based heavily on voting by area coaches and performances throughout the season. All area coaches have an opportunity to vote for first-team, second-team and honorable-mention honors.
"We had (seven) seniors that all understood what it took to get to the state tournament."
With such experienced leadership, players' roles entering the 2006 campaign were, for the most part, clearly defined. In Brouhard's case, he knew he'd be counted on to anchor the infield defense at short, provide some pop as the cleanup hitter and provide the same mix of intensity and steady guidance that helped him shine as the starting quarterback on the Eudora football team in the fall.
He didn't expect also to control the game regularly from the center of the diamond.
"I kept telling coach, 'I'm not a pitcher.' I hate waking up in the morning (for workouts). I hate running," said Brouhard, listing some of the extra responsibilities that came with his new job. "So I'm proud of myself for doing that."
So was his coach.
"He's always had a pretty good bat, but his pitching was just outstanding," Kinney said. "He really turned it on at the end of the year.
"His work ethic was outstanding. He really worked hard. He busted his butt all summer. ... His work ethic is what got him where he is."
It also got him a ticket to the future. Brouhard will continue his baseball career at Fort Scott Community College, where he expects to shift to either second or third base and perhaps even throw a few innings if needed.
"I'm very excited," Brouhard said. "I get to wear another jersey. That's what it's all about."
While losing such a strong contingent of seniors will be tough on Kinney and the Cardinals, there's little doubt which individual from that group will be the toughest to replace.
"It hurts because, almost in retrospect, you're losing two players," Kinney said. "You're losing a pitcher and you're losing a shortstop."
All-Area Baseball
First team Luke Abel ¢ Sr. ¢ Eudora ¢ OF ¢ Batted .487 with 28 RBIs and 16 stolen bases ¢ First-team Frontier League pick Sean Blosser ¢ Sr. ¢ Perry-Lecompton ¢ C ¢ Batted team-high .397 with 25 hits and 19 RBIs ¢ Had .981 fielding percentage Luke Bones ¢ Sr. ¢ Ottawa ¢ 3B ¢ Batted .439 with 25 hits, 24 runs and 13 RBIs ¢ Had just five errors defensively Kelson Boyer ¢ Soph. ¢ Eudora ¢ P ¢ Finished 9-0 with 1.34 ERA, 59 strikeouts and just four walks ¢ First-team Frontier League pick Miles Cleveland ¢ Sr. ¢ Eudora ¢ 2B ¢ Batted .477 and broke school record for hits with 41 ¢ First-team Frontier League pick Chad Griffin ¢ Sr. ¢ Eudora ¢ 1B ¢ Batted .412 with 3 homers and 36 RBIs ¢ Had .700 slugging percentage Daniel Volk ¢ Jr. ¢ Tonganoxie ¢ OF ¢ Batted .388 with 26 hits, 15 runs, 11 RBIs and 10 stolen bases
Second team Mark Abel, Eudora, Sr., OF Brian Beatty, Perry-Lecompton, Sr., INF Michael Espinosa, Ottawa, Sr., INF Boone Heston, Oskaloosa, Soph., OF Cody Heston, Oskaloosa, Sr., INF Brock McGinnis, Oskaloosa, Soph., INF Kyle Rush, Wellsville, Sr., OF Rodney Spillman, Eudora, Sr., C Matthew Wilbur, Perry-Lecompton, Sr., P
Honorable mention David Foltz, Perry-Lecompton, Sr.; Phil Greenlee, Perry-Lecompton, Sr.; Chad Krutz, Eudora, Soph.; Clay Metzger, Oskaloosa, Soph.; Chase Moore, Ottawa, Soph.; Josh Weis, Oskaloosa, Sr.
Copyright 2018 The Lawrence Journal-World. All rights reserved. This material may not be published, broadcast, rewritten or redistributed. We strive to uphold our values for every story published.