There was plenty of emotion to go around the Eudora High dugout last month when the Cardinals took care of business in a Class 4A baseball regional on their home field and secured an elusive berth in the state tournament in Salina.
For the players, it was the excitement of knowing their hard work finally had paved the way to the promised land.
For coach Dirk Kinney, it was a sense of relief in breaking down one of the few barriers he hadn't been able to overcome in his short yet highly successful tenure as the Cardinals' boss.
"We earned it during the regular season every year, but it was finally nice to come through regionals and have that chance to go to state," said the fourth-year skipper.
Once there, Eudora advanced all the way to the title game, falling against Kansas City Ward to finish with a 24-2 record and a silver trophy in the school's inaugural state appearance.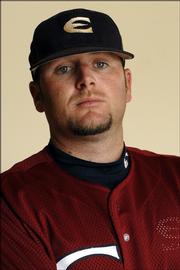 The historic performance also earned Kinney recognition as the All-Area Baseball Coach of the Year.
When Kinney took over prior to the 2003 season, Eudora had registered just one winning season in its baseball portfolio. It has been four straight finishes above .500 since, allowing the Cardinals to hold up their end of the bargain in what has become a bit of an athletics blossoming on campus the last few years.
"Winning's contagious. And it's throughout the school," said Kinney, who also serves as an assistant coach for the boys basketball program. "When I first got there, baseball didn't win a lot.
"I love it when other sports do well because you're expected to win. And you should be expected to win."
A big reason for the recent upswing has been an abundance of talented athletes in the Class of 2006, especially so on the diamond, where seven seniors were the driving force behind this year's breakthrough.
While a host of talented underclassmen will return next spring in hopes of a repeat, Kinney knows he now must say goodbye to a special crop of contributors.
"This one hurts because they are the kids I came in with," Kinney said. "I'm really close to most of the kids' families. It hasn't really sunk in yet."
Copyright 2018 The Lawrence Journal-World. All rights reserved. This material may not be published, broadcast, rewritten or redistributed. We strive to uphold our values for every story published.