Standing all of 4-feet, 10-inches - in shoes - 13-year-old Tyler Wright depends on his speed. On offense, Wright has the quickness to leave defenders standing still. On defense, taller players may shoot over him, but Wright's fleetness of foot gives them no chance at getting past him.
However, when the June 13 session of the Bill Self Basketball Camp at Free State High School concluded, the bus designated to take the campers to the Kansas University dorms was the one thing that eluded Wright.
"The bus just left," Wright said in the middle of his interview.
Luckily for Wright, the bus returned to the school because a coach forgot his keys in the gym. And just like that, Wright exhibited his speed one last time, sprinted to the vehicle.
"He was like, 'Am I glad to see you!'" the coach said.
In addition to his speed on the court, Wright also makes good first impressions in a short amount of time. Before the camp, most - if not all - of the coaches at the Free State section had never met Wright, who attends Washburn Rural Middle School. Nevertheless, Wright seemed to have formed a relationship with each one of them.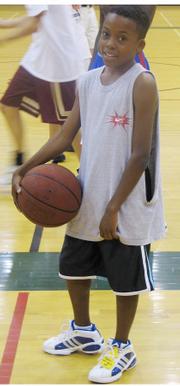 One coach joked about how much Wright liked to talk and others referred to Wright by his nickname - "Little General." But every coach had something positive to say about him.
"He is this tall, but he carries himself this tall," said coach Pat Hupfauf gesturing with his hand from Wright's height to a couple of feet over his own head.
At times during the camp, Wright displayed his vocals, the source of ribbing from others. Even if Wright, surrounded by more than 50 campers, couldn't be seen, he could always be heard.
One drill required players to pass back and forth as they moved down the court and then pass to a cutting player for a layup without letting the ball hit the court. With the campers split up into two groups, the group that could do this five times, mistake-free, won. When Wright's group reached five and the coaches didn't stop the drill, he made sure to let them know his group's status.
"That's six!" Wright said as his group continued to make baskets.
Perhaps Wright's most enduring quality though, was his leadership. Playing alongside friends and strangers alike, Wright was never afraid to take an important shot for his team during three-on-three competitions, nor was he ever hesitant to accept blame if he made a mistake.
During a drill where campers were split up into two teams at each of the six baskets in the gym, Wright exuded his leadership skills. In the drill, made baskets from the elbow of the lane were worth two points and layups were worth one. The team at each basket that reached 12 points first advanced to the next basket and was replaced by a team from the previous basket while the losing team had to stay put.
At one point, Wright's team thought it scored 12 points first and started to move to the next basket, but his team had actually lost and should have stayed put. Amid the confusion, Wright realized what was going on, reorganized his team at the appropriate basket and led them back to win.
"He's got a spirit about him that people connect to," Free State coach Chuck Law said. "He lights up the gym when he walks in. He just loves to play the game and people are drawn to that and definitely follow his lead. It shows you that leadership doesn't necessarily come in big packages."
Copyright 2018 The Lawrence Journal-World. All rights reserved. This material may not be published, broadcast, rewritten or redistributed. We strive to uphold our values for every story published.