Dallas — Pat Riley first promised it 11 years ago: a Miami Heat victory parade down Biscayne Boulevard. Shaquille O'Neal guaranteed it two summers ago, vowing to add a fourth ring to his big hand in his new city.
And with one tenacious game after another in these NBA Finals, Dwyane Wade delivered both.
The Miami Heat are champions for the first time, thanks to two basketball greats who made good on their promises - and the next great one, whose promise seems unlimited.
The man they call "Flash" had 36 points and 10 rebounds in the teeth of a hostile Dallas crowd Tuesday night, capping his magnificent playoffs and the Heat's sizzling four-game comeback by leading Miami past the Mavericks 95-92.
"It's one of the best feelings, next to my wife and my son, that I've ever had in my life," Wade said. "I'm going to live it up!"
The Heat roared back from a two-game deficit to win the NBA finals in six. Wade, the obvious finals MVP, cemented his superstardom with a dominant four-game performance capped by four pressure-packed, final-minute free throws in the same building where Miami went down two games to none.
He even missed a pair in the waning seconds, giving Dallas a final shot to tie. But Jason Terry missed an open look for 3, and Wade grabbed the rebound and flung it joyously into the stands as time expired.
Where there's a Wade, there's a will. His grace added a fifth ring to Riley's finger - third-most among NBA coaches - and the first jewelry in Shaq's collection with no connection to Kobe Bryant.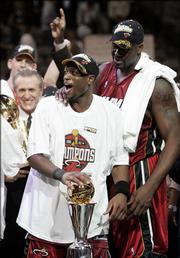 "The great Pat Riley told me we were going to win today," said O'Neal, who had nine points and 12 rebounds. "I didn't have the best game. But D-Wade's been doing it all year. He's the best player ever."
Dirk Nowitzki had 29 points and 15 rebounds for the Mavs, but Dallas couldn't manage the last basket it needed to topple Wade's determination. With their crowd booing every call and seething with every missed opportunity, the Mavs missed their own chance for their first title.
The Heat finished the franchise's 18th season with one of the league's greatest rallies in a finals, and the last period of Game 6 was appropriately gritty.
Miami nursed a narrow lead, taking an 89-85 advantage with 2:36 left on two jumpers by James Posey. Jerry Stackhouse cut it to a point with a 3-pointer in his first game back from suspension, but after Udonis Haslem and Josh Howard traded jumpers, Wade hit two free throws with 26 seconds left.
Erick Dampier then fumbled a pass on Dallas' next possession, and Wade fought to get the loose ball. He hit two more free throws with 17.7 seconds to play, but after Howard hit a pair, Wade missed two with 10.3 seconds left.
But Terry missed an open 3-pointer. It was the last of 11 straight misses, and the final disappointment in the Mavs' otherwise remarkable season.
"We made a lot of progress this year," said Dallas' Avery Johnson, the NBA's coach of the year. "We aimed high this year, and I told them that a lot of teams have to go through this. This will really hurt this summer. I hope they work out hard, make me a better coach. I'm ready to try it again."
Miami hung onto the clincher in front of more than 20,000 Dallas fans still furious at every NBA official and commissioner David Stern for the Mavs' three losses in Miami last week. Owner Mark Cuban stoked the furor with his antics after Game 5, which resulted in a $250,000 fine earlier Tuesday.
But while the Mavs worried about every perceived slight, the Heat focused on fulfilling the promises of Riley and O'Neal.
"I came to Miami because of this young fella right here," O'Neal said, indicating Wade. "I knew I wanted to make him better."
Dallas' fans both booed and cheered the trophy presentation, and Stern was jeered repeatedly.
Cuban stole the finals spotlight earlier in the day, getting socked with the fine for his complaints about the officials and general conspiracy theory. All of Dallas caught the Mavs' us-against-the-world vibe: Signs supporting Cuban and suggesting a league conspiracy against the Mavs dotted the stands for Game 6, and fans screamed at Stern in his courtside seat.
But the series actually was controlled by Wade, who ascended to the most elite tier of NBA stars. He scored 121 points in three victories in Miami before capping it with one more tenacious win.
Riley wiped away tears while hugging his players, and Miami crowded onto the hastily assembled podium with the excitement of a high-school graduation.
Riley, who won his first ring since 1988, claimed he never considered the possibility Miami wouldn't finish with four straight wins.
"I packed one suit, one shirt and one tie," he said before the game. "That's it."
Riley tied John Kundla with his fifth title as a head coach. Only Phil Jackson and Red Auerbach have more, with nine apiece.
O'Neal, who fought foul trouble, was held to two of his worst career playoff games in the earlier Dallas debacles, and he endured another extraordinary struggle at the free-throw line in the series. None of it will matter to the Big Champ: He'll take a special pride in winning his first ring without Bryant.
Their partnership resulted in three titles and four finals trips for the Los Angeles Lakers, but their clashing egos caused a power struggle that led to Shaq's trade. O'Neal has no such problems with Wade, and their cohesion peaked in Miami's four finals wins.
Riley, the slick-haired strategist who led the Lakers to four titles in the 1980s, now has vindication from those who criticized his decision to take over the club from coach Stan Van Gundy early in the season.
Leaning on Riley's savvy in coaching veterans and defense, the Heat rolled through the postseason with surprising force - never even facing a seventh game. Riley now has seven rings, counting his single championships as a player and an assistant coach.
And the Heat's roster is studded with stars who never won a title. Point guard Gary Payton reached the finals with three teams before finally grabbing the ring, while Alonzo Mourning played through 13 seasons, two retirements and a serious kidney ailment for a championship.
Antoine Walker, Jason Williams, Posey, Haslem - all endured serious career troubles, and now they're all champions, too. Notes: The Heat became the first team to rally from an 0-2 deficit to win the finals since the NBA went to its 2-3-2 format. Only two other teams ever did it: The Boston Celtics in 1969, and the Portland Trail Blazers in 1977. ... Miami hadn't won in Dallas since 2002.
Copyright 2018 The Associated Press. All rights reserved. This material may not be published, broadcast, rewritten or redistributed. We strive to uphold our values for every story published.