Finding himself with two assistant coaches who weren't really sure they were ready to take over the Tonganoxie High softball program on an individual basis, athletic director Brandon Parker floated the idea of Debbie Himpel and Craig Lohman sharing the role during the 2006 season.
"We decided to do it together for one year and see how it goes," Himpel said.
Looking back, it's hard to argue with the results.
The two-headed tutelage didn't just engineer a turnaround, but the best season in Chieftains history - a 20-4 record, a share of the Kaw Valley League championship, and most impressive of all, a debut appearance in the Class 4A state tournament.
Which, in turn, has led to one more honor for the program - the coaching duo's selection as the All-Area Softball Coaches of the Year.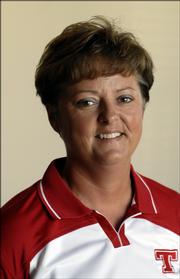 The unusual coaching arrangement wasn't the only wrinkle Tonganoxie had to work through in 2006. The varsity roster included no seniors - usually a kiss of death for a team trying to rebound from a sub-.500 season.
So perhaps it was a case of ignorance is bliss once spring arrived.
"When we had our preseason meeting with the girls, I had them fill out a piece of paper with their goals. Four or five of the girls actually put down that their goal was to go to state," Himpel said. "We (the coaching staff) wanted that goal, but weren't really sure how realistic that was going to be to achieve."
With the breakthrough complete, now comes the difficult task of replicating that success. Lohman has decided to give up his coaching duties, leaving Himpel alone to guide next year's squad.
Coaches of the year
Debbie Himpel and Craig Lohman ¢ Tonganoxie
With the entire lineup back, the goal for 2007 certainly shouldn't be a surprise.
"Hopefully getting that far (to state) will make them hungrier for next year," Himpel said. "They have a taste for it now."
Copyright 2018 The Lawrence Journal-World. All rights reserved. This material may not be published, broadcast, rewritten or redistributed. We strive to uphold our values for every story published.