It was the undefeated versus the winless in a Houk League match-up.
What was supposed to be a lop-sided victory by the undefeated team, turned into a rally for the winless squad as the Storm stopped the undefeated Bulls with a 13-11 victory Wednesday at Holcom Park.
"We didn't give up, but we started off slow," Storm head coach Thad Petry said.
Because of the Storm's slow start, the Bulls dominated on both offense and defense during the first half of the game - showing the crowd why they hadn't lost yet this season.
But it was the Storm that struck first in the top of the first. Leadoff batter Roy Wedge hit a double, stole third base and later scored.
Tyler Minor then gave the Storm a 2-0 advantage.
The Bulls answered as they scored three runs to take a 3-2 lead.
Neither team scored in the second.
The Bulls plated six runs in the bottom of the third and the Storm scored just two, bringing the Bulls' lead to 9-4.
Through the fourth, fifth and sixth inning, neither team scored as there were many strikeouts and quick outs.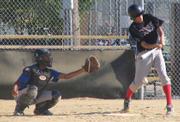 The first base umpire looked at his watch as there was less than five minutes to play, walked to the Bulls'dugout and chatted with the coach. The players shouted that they wanted to play and both teams ran back onto the field.
"The kids always want to play, no matter what time it is," Wedge said.
One more inning and that was it as the Bulls still held onto their five-run lead.
Minor was the first Storm batter in the top of the seventh. He hit the ball to right field and it was just short of going out of the ballpark. His teammates stood as he rounded the bases, cheering.
"Taylor hit a ball that almost went out, everyone in the dugout got up. That made a big difference," Petry said.
It certainly did as the Storm rallied to score eight more runs in the top of the seventh to go up by a 13-9 margin.
The Bulls could not counter, as they scored only two runs in the bottom of the seventh and fell for the first time this season.
Copyright 2018 The Lawrence Journal-World. All rights reserved. This material may not be published, broadcast, rewritten or redistributed. We strive to uphold our values for every story published.