The basketball world has been buzzing about Miami Heat guard Dwyane Wade, a 6-foot-4 dynamo deemed the "best" player in the NBA by future Hall of Famer and current teammate Shaquille O'Neal.
"He is great. He reminds me more and more of (Michael) Jordan each and every game," Kansas University coach Bill Self said of Wade on Tuesday at Self's youth basketball camp at Horejsi Center.
Self spoke four hours before Game 6 of The Finals - one in which Wade's 36 points and 10 rebounds lifted the Heat to a 95-92 title-clinching victory at Dallas.
Wade's performance, which included a 40.3 ppg scoring average in three key victories in Miami, earned him Most Valuable Player honors of the series at the age of 24.
"I don't know how you can stop him. One thing you can't do is you can't keep fouling him. His shooting 25 free throws a game is hard to overcome. Those are free points," Self said.
The third-year pro hit 16 of 21 free throws Tuesday after converting 21 of 25 in Sunday's Game 5 in Miami.
Hard to believe, but the Robbins, Ill., native, who was chosen No. 5 overall in the 2003 NBA Draft, was much of an unknown coming out of high school. He didn't even start for his summer AAU team, eventually choosing Marquette over DePaul in recruiting.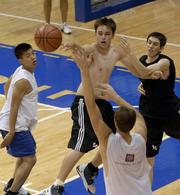 "He wasn't that highly recruited," said Self, who as a coach at Tulsa University had not heard of Wade and didn't recruit him.
"He was pretty good in college," Self quickly added.
Wade played against Kansas once, scoring 19 points off 7-of-15 shooting in Marquette's 94-61 Final Four loss to the Jayhawks in the 2003 national semifinals in New Orleans, the last game of Wade's college career.
KU's Kirk Hinrich guarded Wade closely that game.
"He (HInrich) was so athletic, so hard to get around," Wade told the Journal-World's Tom Keegan hours before the 2003 NBA Draft. Wade at that time indicated Hinrich was the toughest player he competed against in college.
Assessing the NBA Finals, Self said: "I really believe Dallas has the better team and should have won two of the three in MIami, but when Wade is on they are awfully tough to beat."
¢ Simien a champ: Former KU forward Wayne Simien will receive a ring for being a member of the NBA championship team. Wearing a brown suit, Simien raced onto the court and hugged his teammates after the final horn.
Simien, who averaged 3.4 points and 2.0 rebounds in 43 regular season games, was not on the active list for The Finals after suffering a severe bout of the flu before Games 1 and 2. He played seven minutes total in two playoff games.
Simien is one of several Heat players - Wade and Alonzo Mourning included - who regularly attend pre-game chapel services, a subject of a story in the South Florida Sun Sentinel.
"There's a real camaraderie among believers," Simien told the paper. "And it reminds you that basketball is a game."
Miami's Udonis Haslem said chapel is a part of his game-day routine.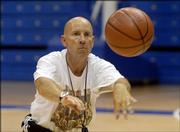 "I come in, I eat a hot dog, I get in the steam room, then I get in the hot tub, I take a shower, I go out, I shoot, I come back in, I go to chapel, then I come in and get ready for the game. Everything in the same order, every time," Haslem said.
¢ Withey to visit for Late Night: Jeff Withey, a 7-foot, 220-pound junior-to-be from Horizon High School in San Diego, tells rivals.com he will make an unofficial visit to KU for Late Night in the Phog on Oct. 13 at Allen Fieldhouse. He said his top schools are KU, Arizona, UCLA, Louisville and Boston College. Other possibilities: Kentucky, Duke, Washington, UNLV and Southern California.
Withey averaged 12 points, 11.9 rebounds and 4.9 blocks a game his soph season. He made 60 percent of his shots.
"My strengths are my ability to post up and my mid-range jump shot," Withey told rivals.com. "I am quick for my size. Defensively, I am aware of what I am doing on the court and can block a lot of shots. I also feel that I have a good basketball IQ."
¢ Walker leaves Huskers: Nebraska point guard Marcus Walker has decided to transfer to Indian Hills (Iowa) Community College, the Lincoln Journal-Star reports. Walker, a former Kansas City O'Hara standout, asked for a release in late May after one season at NU.
¢ Challenge series discussed: The Big 12 and Pac-10 may have a challenge series of games beginning as soon as the 2007-08 season.
"We're working very hard on that," Pac-10 assistant commissioner for electronic communications Duane Lindberg told the Seattle Times.
The ACC/Big Ten Challenge has been popular the last several seasons. Teams from each conference meet each other in a one-game format over two days. KU is already contracted to play Southern California of the Pac-10 in 2007-08 in Los Angeles.
The Big 12 has also had discussions in the past with the Southeastern Conference about a possible series.
Copyright 2018 The Lawrence Journal-World. All rights reserved. This material may not be published, broadcast, rewritten or redistributed. We strive to uphold our values for every story published.