Kansas City, Mo. — For a pitcher trying to win in the major leagues, it was not so good.
For a guy who just a few months ago faced what could have been a life-threatening physical condition, Kip Wells' first outing of the season was not so bad - not so bad at all.
"Fortunately, my stuff was as good as it can be. I take heart in that," he said. "But obviously you want to have consistent command."
In his first start since undergoing surgery March 6 to repair total blockage in the artery carrying blood to his brain and arm, Wells failed to hold a 4-0 lead and lasted only 31â3 innings as Kansas City rallied for a 10-5 victory over the Pittsburgh Pirates.
Walks were his main problem. He gave up five bases on balls and struck out only two in this interleague matchup between the two worst teams in the majors.
"It's frustrating," he said. "But I'll take it and roll with it and try to improve and look forward to my next outing and try to let them get themselves out more instead of putting myself in tougher situations than I have to."
David DeJesus and John Buck drove in two runs apiece and a shaky Mark Redman (4-4) won his fourth game in a row despite giving up four runs in the first as the Royals improved to 20-49.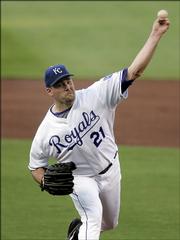 Wells was charged with six runs and five hits and five walks while the Pirates dropped to 26-46 with their sixth straight loss.
The right-hander gave up one run in the bottom of the first and three in the second and the Royals then took a 6-5 lead with two more in the fourth inning of the sloppily played game. The Pirates tied their season-high with three errors and set a season high with 11 walks.
"It's his first time out and with what it is that he's coming back from, it was very important for him to get back out there on the mound," said Pittsburgh manager Jim Tracy. "I'm sure that he would have liked the result to have been much, much better. But I'm not going to sit here and overanalyze a first outing when a guy's coming back from surgery to repair clottage in his throwing arm."
Freddy Sanchez had an RBI double in the first for the Pirates and then Joe Randa stroked an RBI single ahead of Craig Wilson's two-run home run, a drive to almost straightaway center estimated at 442 feet.
Nathan McLouth doubled leading off the Pittsburgh second and made it 5-1 on Sanchez' RBI single.
Buck had a two-run double and scored on a single by DeJesus in the Royals' second, making it 5-4. In the fourth, the Royals scored runs on Angel Berroa's RBI single and reliever John Grabow's bases-loaded walk to DeJesus.
Redman, who was 5-15 for Pittsburgh last year and traded to Kansas City in the offseason, had not won four in a row since July 2000 with Minnesota. He has won all four of his starts this month after going 0-4 in seven starts in April and May. He gave up five runs and six hits with five walks in five innings. He also had two wild pitches.
"I can't say enough about our offense and defense today," said Redman. "They did great. It was a battle all day, leaving the ball up and just escaping jams here and there. But I got out of there with a win."
Jack Wilson added a solo homer in the ninth for the Pirates to make it 10-6.
"It wasn't a pitcher's night," said Redman. " I had a good feeling today. Even though I gave up the four early runs, I had confidence in the guys."
Copyright 2018 The Associated Press. All rights reserved. This material may not be published, broadcast, rewritten or redistributed. We strive to uphold our values for every story published.