The battle between the Flame Hawks and the Jets in the Parks and Rec Rookie Baseball League got off to a quick start as each team scored five runs in their first at bats.
Two home runs for the Flame Hawks in the top of the first by Simeon Windibiziri and Lane Nations helped get the game off to a powerful start. Round-trippers sealed the victory as well as the Flame Hawks emerged with a 25-21 win.
"I thought they played really well," Flame Hawks head coach Andy Liba said. "Their enthusiasm level was very high, and they all came in with a good attitude."
In the second inning, as was the case in all five innings played, the Flame Hawks scored the maximum five runs. Jet Eli Goldman helped his team take the a 10-8 lead with another bomb.
The Flame Hawks continued to pull away in the third inning with another homer, this time by Sam Fanshier - who brought in three runners. The Jets stayed close in the bottom of the third when Goldman connected on his second home run to help his squad bring in the max runs.
But in the fourth, the Flame Hawks scored five runs and then quickly cut the Jet's batting short with three fast outs, staking claim to a 20-16 lead as the teams entered the fifth inning.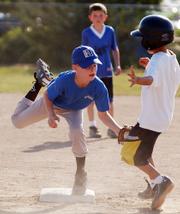 To close out the game, the Flame Hawks pounded two more home runs, one by Aric Trent and another long shot by Logan McKinney.
The Jets also finished with five runs, but it wasn't enough to overcome the Flame Hawks' red-hot offense.
Jets head coach, Shawn Swisher, said he was very proud of his squad and had noticed improvement as they played in their third game this season.
"We're basically working on general skills at practice," he said. "But I'm more worried about good sportsmanship and making them understand you don't have to walk away with a win in order for it to be a good game."
Liba said in upcoming practices, his team will focus more on fielding.
"Everyone can bat pretty well, so we need to work on other fundamentals," he said. "They need more experience with some field work."
Copyright 2018 The Lawrence Journal-World. All rights reserved. This material may not be published, broadcast, rewritten or redistributed. We strive to uphold our values for every story published.