The distinct sound of bats hitting balls could be heard in the mornings last week at Free State High School. Just as the sun was starting to beat down and many Lawrence residents were beginning their day, the boys of summer were swinging away at Free State's baseball camp.
Whether hitting fast balls in the batting cage or out on the baseball diamond, camp participants were ready and eager to get their chance at bat.
The aim of the camp, which ran the mornings of June 12-15, was to help kids of all ages become better baseball players. The upcoming ninth-grade players participating in the camp said they hoped the skills they learned will help earn them a spot on their respective high school baseball teams next year.
Eric McCarthy, who will start ninth grade at Free State in the fall, said the camp helped him brush up on his skills and learn new ones to take to high school tryouts.
"I hope the camp will help me make the high school team," McCarthy said. "I've learned a lot so far."
Upcoming Lawrence High School ninth-grader Taylor Gentry said he participated in the camp this year to learn new things while reinforcing the fundamentals of baseball. Others joined Gentry in the camp, which reinforced basic skills through drills, warm-ups, base running and defensive tactics.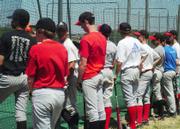 Participants learned to take new approaches to defensive tactics with some drills involving taking ground balls and soft balls. They also worked on hitting off tees.
To reinforce hitting tactics, participants worked on new strategies and routes to hitting the ball better.
McCarthy said the hitting drills were some of his favorites, while his least was the base running because of its magnitude.
"The camp also helped in fielding to help us get in front of the ball and make a good throw," McCarthy said. "We have learned how to get our feet set right."
Cory White is another ninth-grader from Lawrence High who said he looked to the newly learned skills to provide him with a better foundation for playing high school baseball.
"My favorite part so far has been working on individual defense and the outfield," White said. "I also like our practice with catching at the wall and fielding the ball at our right foot, if we are a righty."
White said the only downfall of the camp for him has been getting up in the morning to get to the camp on time and adjusting to throwing with a sore arm that is tired from all the early morning practices and drills.
Whether they will play for high school or local little league teams, camp participants said they hoped the sore arms or the sleep deprivation from the early morning wake-up calls will pay off when they get their chance next year.
Copyright 2018 The Lawrence Journal-World. All rights reserved. This material may not be published, broadcast, rewritten or redistributed. We strive to uphold our values for every story published.