Description: Bay leaves come from the ancient Mediterranean bay laurel tree. Leaves are plump, oval-shaped, shiny, green and sturdy with slightly rough edges.
Season: Dried leaves are common throughout the year, but fresh bay leaves can be found in the summer.
Purchasing: Dried leaves may be purchased whole, in broken bits or as a powder. Choose whole leaves with the brightest green color and strongest aroma possible.
Uses: Bay leaves are used to flavor food but have sharp edges that can tear your inner organs, so don't eat them. One common use is to add bay leaves to slow-cooked sauces and stocks or when poaching seafood. Also used with artichokes, beets, celery root, chicken, corned beef, fish, potato, roast duck, roast pork and tomato sauce.
Source: "Field Guide to Herbs & Spices," by Aliza Green
Corned beef
A 4-5 pound corned beef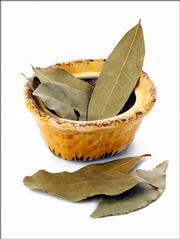 8 bay leaves
5 large cloves garlic, chopped
1 tablespoon mustard seeds, bruised
2 teaspoons cracked black pepper
1 tablespoon coarse (kosher) salt
3 dried hot red peppers (about 1 1/2 inches long) seeds removed, crumbled; or 1 teaspoon crushed red pepper
1/2 teaspoon ground coriander
Tear off piece of heavy aluminum foil large enough to wrap the corned beef completely and lay the meat on it. Combine the bay leaves, garlic, mustard seeds, peppercorns, salt, red peppers and coriander in a bowl. Rub the seasonings hard into the corned beef, covering all surfaces. Wrap the meat closely and enclose the package in a plastic bag. Tie the bag securely at the neck, refrigerate for 3-5 days, turning it daily.
To cook: Leaving the coating of seasonings on the meat, place the corned beef in a large pot and cover it to a depth of 2 inches with cold water. Cook the meat at a barely perceptible simmer, partly covered, until it is very tender when pierced with fork. Cooking will take 3-5 hours. Turn the meat occasionally and add boiling water, if needed, to keep the meat covered.
Let the corned beef partially cool, uncovered, in the broth. It can be served warm, or it can be cooled completely, drained, wrapped and refrigerated.
Source: www.spicebarn.com
Copyright 2018 The Lawrence Journal-World. All rights reserved. This material may not be published, broadcast, rewritten or redistributed. We strive to uphold our values for every story published.