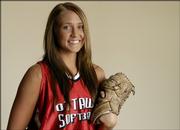 Ask Megan Ramsey to talk about her senior campaign with the Ottawa High softball team, and the words are tinged with sorrow.
She doesn't pat herself on the back for her 11-2 record in the circle, her 0.94 ERA or her 150 strikeouts. There's no celebration of her .369 batting average.
"I was definitely kind of disappointed in myself," said Ramsey, dismissing numbers that have no such right to be ignored. "Just because we didn't go to state."
True, the sum of Ramsey's many parts wasn't another team title - which would have made a fitting bookend to the one she delivered three years earlier as a precocious freshman.
Instead, she'll simply walk away from her impressive high school career with one last individual highlight - as the All-Area Softball Player of the Year.
Team success or not - the Cyclones' 17-4 record would lend credence to the former - there's no denying the impact Ramsey made not just during her farewell spring in an Ottawa uniform, but throughout her four-year varsity career.
Before the lanky right-hander arrived, the Ottawa softball program didn't have so much as one winning season to its credit. Still, Cyclones coach Renee Malburg, who took over in 2000, had confidence that was about to change.
Photo Gallery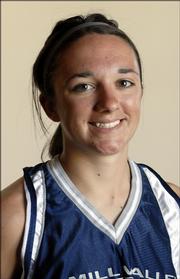 All-Area Softball
The All-Area softball team was selected by The Journal-World sports staff and is based heavily on voting by area coaches and performances throughout the season. All area coaches have an opportunity to vote for first-team, second-team and honorable-mention honors.
"I knew about her. I knew she'd played a lot of competitive ball," Malburg said. "There was no doubt in my mind that she'd come in as a freshman and impact our team."
She didn't stop there. Instead, Ramsey completely altered the landscape of the Class 4A softball ranks for one season, carrying Ottawa to the 2003 state title.
An enrollment spike kicked the Cyclones up a class the following season, but didn't boot them out of the postseason, with Ottawa again making a state tournament appearance. The last two years provided tougher sledding in the 5A ranks, but did little to slow Ramsey's assault on the record books.
Even in a sport where dominance at the center of the diamond is the norm, Ramsey's final numbers demand attention: a 50-11 career record, a career 0.48 ERA and 765 strikeouts - including more than 200 each of her first three seasons.
"In the four years I've had her she's never been satisfied with where she was at," Malburg said. "She's just a hard worker. She's a great leader to the younger kids. I've been very fortunate to coach someone with that talent. She's really helped develop our program."
With one freshman splash already under her belt, Ramsey will now look forward to a repeat performance at the college level. Once the busy summer softball circuit comes to a close, she'll head south to Springfield, Mo., as part of the incoming freshman class at Missouri State University.
"I'm so excited. I think it will be a lot of fun. I'm just going to get so much better," said Ramsey, likewise confident the Bears are going come out all right on their end of the deal.
"I definitely think that I will (play right away). Obviously it's going to be hard work. ... I think I'll be able to make an impact right away."
All-Area Softball
Carleigh Berry ¢ Jr. ¢ Mill Valley ¢ OF ¢ Batted team-high .603 with 50 hits and 18 stolen bases ¢ Made just one error on defense Kelsey Epperson ¢ Sr. ¢ Eudora ¢ 3B ¢ Batted team-high .473 with 35 hits, 22 runs, 16 RBIs ¢ Named second-team all-state Lauren Himpel ¢ Fr. ¢ Tonganoxie ¢ OF ¢ Batted team-high .475 with 38 hits and 23 RBIs ¢ Led Tongie to 4A state tourney Lezley Lawson ¢ Fr. ¢ McLouth ¢ 1B ¢ Batted .632 with 31 hits, 11 doubles and 8 RBIs ¢ Led McLouth to 3A state tourney Lindsey Ottensmeier ¢ Jr. ¢ Oskaloosa ¢ 2B ¢ Batted .316 with 18 hits, 24 runs and 8 RBIs ¢ Had .530 on-base percentage Kendall Patterson ¢ Fr. ¢ McLouth ¢ C ¢ Batted team-high .694 with 34 hits and 25 RBIs ¢ Led McLouth to 3A state tourney Megan Reed ¢ Sr. ¢ Oskaloosa ¢ SS ¢ Batted team-high .460 with 29 hits and 15 RBIs ¢ Had .948 fielding percentage Mackenzie Salzman ¢ So. ¢ Eudora ¢ OF ¢ Batted .406 with 28 hits, 13 doubles, 24 RBIs ¢ Named first-team all-state
Second team Ali Brimblecom, Ottawa, Sr., C Michelle Deluna, Eudora, Sr., INF Kim Gilges, Baldwin, Jr., OF Kelly Griffin, Mill Valley, Sr., INF Lindsey Himpel, Tonganoxie, So., INF Ali King, Oskaloosa, Sr., P Tracie Hileman, Tonganoxie, So., OF Erin Leslie, Mill Valley, Sr., INF Cat White, Mill Valley, Sr., OF
Honorable mention Carlene Bolton, Mill Valley, Sr.; Callie Craig, Baldwin, So.; Rachel Cunningham, Oskaloosa, Sr.; Samantha Farris, McLouth, So.; Sarah Flaherty, Tonganoxie, So.; Catherine Gunther, McLouth, Sr.; Brynn Hamilton, Eudora, Jr.; Ashlee Moore, Ottawa, Jr.; Melissa Pratt, Tonganoxie, So.; Amie Riddle, Tonganoxie, Jr.; Bailey Scott, Eudora, Fr.; Karen Spence, Eudora, Sr; Jamie Voigts, Baldwin, So.; Morgan Watts, Ottawa, Fr.; Alex Zordell, Baldwin, Fr.
Copyright 2018 The Lawrence Journal-World. All rights reserved. This material may not be published, broadcast, rewritten or redistributed. We strive to uphold our values for every story published.