The U14 Lawrence Girls Fast Pitch Association Electricity and Flash teams went neck and neck on June 13 at Broken Arrow Park. After meeting for a second time, the two teams remained deadlocked in a 5-all tie throughout the first inning, and then 6-6 in the third.
After Flash gained a one-run lead, Electricity came through in the end for the game-deciding run to win 9-7 after four innings. Electricity's victory capped off a double-header sweep and pitcher Meagan Dexter said she was proud of the team's turnaround.
"In the third inning when we were tied 6-6, our coach came in the dugout and told us to get the bats going," Dexter said. "We knew we needed those runs to win and we got more focused in the dugout."
Though Electricity came through victorious in the end, it was Flash that ran the bases strong in the first few innings. The team scored five of its six runs in the first inning.
After Electricity matched them run for run in the bottom of the first, Flash consecutively struck out three Electricity batters in the bottom of the second.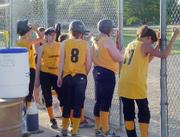 Everett Dexter, Electricity head coach, said he felt his team was fatigue in its second match-up of the evening.
"I think both games went pretty well, the second game left something to be desired but still went well," Dexter said.
Flash scored the go-ahead run in the top of the third to take the 6-5 advantage. Electricity players said they knew it was do-or-die time and picked up their play for good.
Meagan Dexter slid in for the tying run.
The scales were tipped in Electricity's favor once again in the fourth. Just before time was called, both Megan Engleman and Alex Axlund slid into home to secure the victory.
"We played very nicely," Meagan Dexter said. "The game turned out how it should have."
Everett Dexter said the game was an indication of Electricity's marked progress so far this season. Dexter said he laid out some goals for the team to improve on before the start of the season.
"Our goal was to see the girls get more aggressive at bat," Dexter said. "In practices we practically have to reinvent the wheel to keep them going in line."
Dexter said Electricity will continue to practice to be in its best form for some tournament appearances in Shawnee and Basehor later in the season.
Copyright 2018 The Lawrence Journal-World. All rights reserved. This material may not be published, broadcast, rewritten or redistributed. We strive to uphold our values for every story published.