The dream of an orderly closet and a clutter-free home is compelling.
But as our recent tests of closet organizers revealed, reality can intrude on that dream. We found do-it-yourself (DIY) systems costing several hundred dollars that were poorly designed, made of shoddy materials and a nightmare to install. Some took us hours to assemble and left us knuckle-scraped from the experience. Others provided confusing or inadequate instructions.
One, however, proved excellent and another, very good, matching - at a fraction of the cost - a professionally installed system we evaluated. Rubbermaid Configurations ($300) lacks some accessories found in other organizers (including a drawer unit and a base cabinet), but it scored highest among do-it-yourself systems with its ease of assembly and quality of construction. Sold at Kmart, Menards and Amazon.com, Configurations uses telescoping rails and shelves that eliminate the need to measure and cut shelf supports.
The Elfa Ventilated Shelving system ($550), available at The Container Store, offers many accessories and both particleboard and wire shelves. The Container Store will cut brackets and shelves for the Elfa components you purchase there, sparing you from a possible source of irredeemable error.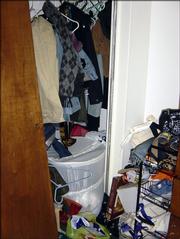 Both of these DIY organizers performed on a par with the California Closets Classic ($1,300), a professionally installed system that the company designs and assembles. The Classic was of a better quality than the do-it-yourself organizers, including California Closets' own life:stuff:storage ($470). That product had parts that didn't line up and drawers that stuck or fell off their tracks.
Other shortcomings we encountered with DIY systems included poor alignment of parts (the $450 Sauder Closits), difficult assembly (the $600 Ikea Stolmen and the $210 Stanley Design Solutions) and bad instructions (the $250 ClosetMaid ShelfTrack & Completions).
The majority of organizing systems sold are DIY. But no matter the storage system or the clarity of instructions, a second set of hands usually makes the work easier.
Advice for installation
Here are several simple steps you can take to avoid problems: ¢ Read directions before putting pieces together. ¢ Find and mark wall studs before attaching anything to the walls. Most studs are spaced 16 inches from center to center. ¢ Do an inventory of the system's parts. If something is missing, it's better to find out early so that you can request a replacement. Most companies in our tests were helpful in providing small replacement parts, but Ikea first required a copy of our receipt and Shulte sent us back to the store where we bought its $670 FreedomRail Closet organizer. If it's a crucial part, you might want to wait until it arrives to get started. ¢ Measure twice, cut once. This is especially important if you're cutting your own wall brackets. ¢ Use a cordless screwdriver or drill to speed the work of driving many screws.
Copyright 2018 The Lawrence Journal-World. All rights reserved. This material may not be published, broadcast, rewritten or redistributed. We strive to uphold our values for every story published.