New York — CBS News said Tuesday it is cutting ties to Dan Rather, concluding a messy professional divorce with the hard-charging anchor who had worked there for 44 years until things went sour over a story about the president's military service.
His departure before the November end of his contract is an acknowledgment that CBS News wants to leave the Rather era behind as it awaits the arrival of Katie Couric.
Rather, 74, has no intention of retiring. He is weighing an offer to do a weekly show at the tiny HDNet, a high-definition network offered on some cable and satellite systems.
"It just isn't in me to sit around doing nothing," he said.
In a tribute Tuesday on the broadcast he used to anchor, anchor Bob Schieffer said he didn't agree with Rather on everything but he shared a love for news.
"Dan Rather was one of the great reporters of his time," Schieffer said. "Good luck, Dan. All the best."
For more than two decades, Rather, NBC's Tom Brokaw and the late Peter Jennings of ABC dominated television as the faces of the evening news and whenever big stories broke. The habit of anchors traveling to the scene of news stories is largely this Texan's legacy.
Yet CBS was last in the ratings and without a transition plan even before the ill-fated September 2004 story about President Bush's military service. Rather narrated the report, in the midst of the presidential campaign, which CBS later concluded after much criticism it could not substantiate.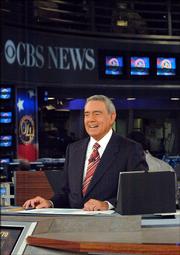 Six months later, on March 9, 2005, he signed off for the last time after 24 years as the "CBS Evening News" anchor. Rather contributed eight stories to "60 Minutes" this past season but he complained it wasn't enough work to satisfy him. He said CBS offered him a new contract with no assignments.
His exit, Rather said on Tuesday, represents CBS' acknowledgment that "after a protracted struggle ... they had not lived up to their obligation to allow me to do substantive work there."
Sean McManus, who took over last fall as CBS News president, wouldn't discuss in an interview with The Associated Press the specifics of what CBS offered. He's been trying to push "60 Minutes" into a new era, with Couric and CNN's Anderson Cooper to begin doing stories in the fall.
"Basically, there wasn't a situation that we could come up with where there was enough meaningful work for Dan to do at CBS News that made sense for both him and us," he said. "I had to make the decision of what to do in that situation, and that was the decision I came up with."
The decision wasn't financial, McManus said.
CBS' send-off to Rather includes a prime-time special on his career that will air this fall, and a contribution to Rather's alma mater, Sam Houston State University. He said Rather deserves his spot in CBS News' history with Edward R. Murrow and Walter Cronkite.
Rather may have been thinking of his predecessor in declining an ill-defined job. After retiring as anchor, Cronkite was given an office at CBS headquarters that he still maintains, but he often complained bitterly of having little to do and having retired too soon.
Besides the potential HDNet job, it is unclear what Rather will do. None of the other broadcast news or cable news networks have publicly expressed an interest in him.
Rather said last week that he had formed a company, News and Guts, for future journalism ventures.
Copyright 2018 The Associated Press. All rights reserved. This material may not be published, broadcast, rewritten or redistributed. We strive to uphold our values for every story published.