New York — In 2003, Anita Britten refinanced her two-story brick cottage in Lithonia, Ga., using a hybrid adjustable rate mortgage, or ARM. Her lender reassured her that she could refinance out of the riskier loan into a traditional one when her interest rate started to reset.
Three years later, Britten can't get a new mortgage and her monthly payment has jumped by a third in six months. She can't afford her payments and may face foreclosure if her financial situation doesn't change.
As more ARMs adjust upward and housing prices begin to dip, many Americans like Britten can't refinance and are finding themselves trapped in too-high monthly payments. For those who can't make their payments, foreclosure - the legal process by which the lender reposseses the house because the owner has defaulted on payments - is the only way out.
Foreclosure figures just released by the Mortgage Bankers Assn. show that foreclosure activity fell in the first quarter of 2006 over the first quarter of 2005 for all loan categories except subprime loans. The MBA didn't specify how many of subprime loans were adjustable rate mortgages.
But while a strong economy helped hold down the foreclosure rate in the first quarter, homeowners and experts fear the market has turned and numbers are headed upward.
In the last several years, millions of Americans took equity out of their houses and refinanced when interest rates were at historical lows and housing prices were at record highs.
Many of them chose to refinance into hybrid ARMs that lenders were aggressively pushing. ARMs, which featured a low introductory interest rate that resets upward after a set period of time, were easier to qualify for than traditional fixed-rate loans.
ARMs are now starting to fall by the wayside as the difference in interest rates narrows. The average rate on a 30-year fixed rate loan in May was 6.60 percent compared to 5.63 percent on a one-year ARM, according to Freddie Mac. In 2003, rates on a 30-year fixed were at 6.54 percent, while ARMs carried a 3.76 percent rate.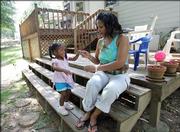 'Ticking time bomb'
This year, more than $300 billion worth of hybrid ARMs will readjust for the first time. That number will jump to approximately $1 trillion in 2007, according to the MBA. Monthly payments will leap too, many beyond what homeowners can afford.
For example, Britten's monthly payment jumped from $1,079 to $1,340 at the beginning of this year. It rose again on June 1 by another $104 and is scheduled to increase again in December. Britten, who is also paying off student loans, went to a credit counseling service to help her avoid foreclosure.
"I've gotten rid of all my credit cards and I'm not supposed to refinance for another year," she said. "All I can do is tread water right now."
"ARMs are a ticking time bomb," said Brad Geisen, president and chief executive of property tracker Foreclosure. com. "Through 2006 and 2007, I'm pretty sure we'll see a high volume of foreclosures."
Weak and strong markets
Last year, foreclosures hit a historical low nationwide at about 50,000. But that number has more than doubled since then, according to Foreclosure.com.
And delinquency rates appear to be rising, as well. While delinquency rates fell for most types of loans from the fourth quarter of 2005 because of a stronger economy, delinquencies for both prime and subprime ARM loans increased year-over-year in the first quarter, according to the MBA.
The hardest hit states so far are those that have experienced the roughest times economically. Michigan, Texas and Georgia lead the pack, specifically around Detroit, Dallas and Atlanta, whose major employers have run into strikes, bankruptcies and industry downturns.
But as the housing market slows, experts expect foreclosures to skyrocket in those areas that have experienced the highest appreciation rate - like California, Florida, Virginia and Washington, D.C.
"There is a direct correlation between foreclosure sales and market activity," said Dr. James Gaines, a research economist at The Real Estate Center at Texas A&M; University. "If the rate of appreciation is not there, then there is an increase in foreclosure sales."
Copyright 2018 The Associated Press. All rights reserved. This material may not be published, broadcast, rewritten or redistributed. We strive to uphold our values for every story published.