Topeka — Kansas officials are hoping New Yorkers won't fagetaboutit.
Starting Thursday, the state, at a cost of $40,000, will have a 30-second commercial promoting Kansas on the CBS Super Screen in New York City's Times Square.
"Clearly, we are about to announce our state in a big way," Commerce Secretary Howard Fricke said.
The ad, produced by a Topeka company and shot in the area with local talent, is supposed to conjure an image of Kansas as sophisticated without the hassle of urban life.
"This commercial shows Kansas as having the best of both worlds," said Caleb Asher, the director of marketing and communications for the Kansas Department of Commerce.
A woman works on a computer while sitting on a dock in front of a farmhouse; a businessman wearing a suit rides his bicycle to work over a rustic bridge; musicians and a dancer perform on the prairie; and a family gazes into the stars of an inky, rural sky.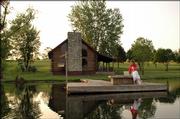 "This, to me, is about planting a positive seed about the state," Asher said.
He said he hoped the ad will dispel some of the negative news that has come out of Kansas in recent months, citing the BTK serial murders, the political fight over evolution and military funeral picketing by a Kansas church family.
The ad, put together by Gizmo Pictures of Topeka, will run three times an hour, 18 hours per day for 18 days on the 26-foot-tall CBS Super Screen in Times Square during the network's coverage of the World Cup Soccer Tournament. Officials said 1.5 million people pass through Times Square each day.
Gizmo's president Jeff Carson said the Commerce agency gave the company eight days' notice to put the ad together.
He said it took about six hours of shooting on the Kanza Prairie near Manhattan, Gage Park in Topeka and a small lake north of the city.
"The planets kind of aligned," Carson said.
The promotion is part of the state's image-boosting drive launched last year as "Kansas: As big as you think."
Callahan Creek, a Lawrence public relations and advertising company, is still involved in that campaign but was not part of creating the Times Square spot, officials said.
Commerce had been running commercials on United Airlines flights in March between New York and the West Coast. A representative for the company booking time for the Super Screen saw the in-flight ad and contacted the state about whether it would be interested in putting up a spot in Times Square.
It all came together quickly, Asher said, and the state got a great deal.
Copyright 2018 The Lawrence Journal-World. All rights reserved. This material may not be published, broadcast, rewritten or redistributed. We strive to uphold our values for every story published.