Philadelphia — Randy Johnson is pitching like his old self again. Brett Myers was even better.
Pat Burrell hit a two-run double, and Myers outdueled the Big Unit to lead the Philadelphia Phillies over the New York Yankees, 4-2, Monday night.
"It wasn't so much what I didn't do as what Myers did do," Johnson said. "He shut us down. He pitched extremely well."
Myers (5-3) allowed two runs in 62â3 innings, and Aaron Rowand had an RBI double, helping the Phillies even their record at 35-35 with their second straight victory after a six-game losing streak.
Johnson (8-6) had his second encouraging outing in a row, and Jason Giambi homered for the struggling Yankees, who have lost three straight and eight of 11.
"Right now we can't afford to allow little things to happen," Yankees manager Joe Torre said. "We have to be as tight as can be with pitching and defense because we're scuffling."
Myers gave up six hits, and had season highs with 11 strikeouts and six walks. Arthur Rhodes tossed a perfect eighth, and Tom Gordon finished against his former team for his 20th save in 21 chances.
"When you see a lineup like that, you know you have to bear down more," Myers said.
Johnson allowed three runs and five hits in seven innings. He dropped his appeal of a five-game suspension for throwing at Cleveland's Eduardo Perez last week and will begin serving today. Johnson's next start likely will be Monday against Atlanta.
Burrell's two-run double in the fourth inning put the Phillies ahead 2-1. With one out, Shane Victorino reached on an infield single and went to second on second baseman Robinson Cano's throwing error. Chase Utley walked, and Burrell lined a shot into the left-field corner to score both runners.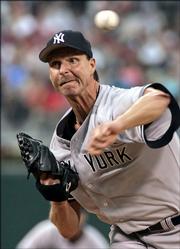 Phillies second baseman Abraham Nunez kept it at 2-1 with an outstanding defensive play on Johnson's hard grounder up the middle to end the fifth. With a runner on second, Nunez dove to his right, made the backhanded stop and easily threw out Johnson.
"That was the play of the game," Torre said.
Rowand's two-out, RBI double in the sixth made it 3-1.
Myers left after walking Alex Rodriguez to load the bases in the seventh. Rheal Cormier came in, and Jorge Posada's infield single drove in a run to cut it to 3-2. Shortstop Jimmy Rollins made a diving play on the one-hopper in the third-base hole to prevent the tying run from scoring.
Cormier then retired Cano on a grounder to second base to end the inning.
The Phillies added an insurance run in the eighth against Kyle Farnsworth. With two outs and the bases loaded, David Bell struck out, but reached on a wild pitch, allowing Rollins to score.
Red Sox 6, Nationals 3
Boston - Emergency starter Kyle Snyder gave the Red Sox five solid innings, and Manny Ramirez hit his 453rd career homer.
Snyder (1-0) was waived by the Royals on Friday and claimed by Boston, which has lost starters David Wells, Matt Clement and Lenny DiNardo to the disabled list. The 28-year-old right-hander allowed three runs, four hits and didn't walk a batter before leaving with a 4-3 lead.
Rockies 7, Athletics 0
Denver - Byung-Hyun Kim combined with three relievers for a seven-hitter, Matt Holliday hit a two-run homer, and Colorado snapped the Athletics' 10-game winning streak.
Kim (4-4) had the A's off balance all night, holding them to four hits in six innings.
Cubs 12, Indians 8
Cleveland - Henry Blanco homered and tied a career high with four RBIs to lead the Cubs to the victory.
Juan Pierre drove in three runs for Chicago, which won its fourth straight road game.
Rookie Sean Marshall (4-5) gave up four runs over five innings before a 73-minute rain delay in the top of the sixth. The left-hander earned his first road win since April 14.
Tigers 3, Brewers 1
Milwaukee - Jeremy Bonderman tied a season high with 12 strikeouts, and Magglio Ordonez hit a two-out, two-run double in the eighth inning to lift Detroit to its fifth straight win.
Milwaukee led 1-0 after Prince Fielder's solo home run in the seventh, but gave up three runs in the eighth sparked by two bunt singles and two errant throws.
Giants 2, Angels 1
San Francisco - Rookie Matt Cain carried a no-hitter into the eighth inning, and Barry Bonds hit an RBI double to help San Francisco end a three-game losing streak. Chone Figgins singled to center with two outs in the eighth to end the longest no-hit bid in the majors this year.
National League
Reds 4, Mets 2
New York - Ken Griffey Jr. tied Mike Schmidt on the career home run chart, and Bronson Arroyo pitched a complete game to lead the Reds to their eighth straight victory on the road.
Griffey's 548th homer put him in 11th place along with the Hall of Fame third baseman and ruined a strong start by New York's Orlando Hernandez (4-6).
D'backs 5, Pirates 4 (11)
Pittsburgh - That unwanted makeup game in Pittsburgh looks a lot better now to the Diamondbacks than it did last month.
Johnny Estrada's pinch-hit single drove in the go-ahead run in the 11th, and the Diamondbacks halted a five-game losing streak, squandering a four-run lead before rallying.
Copyright 2018 The Associated Press. All rights reserved. This material may not be published, broadcast, rewritten or redistributed. We strive to uphold our values for every story published.