Omaha, Neb. — Jonah Nickerson pitched seven strong innings, and Oregon State survived anxious moments in the eighth and ninth to eliminate Georgia from the College World Series with a 5-3 victory Monday.
Chris Kunda drove in two runs for the Beavers (45-15), who play today against Miami.
The Beavers, making their third CWS appearance, bounced back from Saturday's 11-1 loss to Miami to win for the first time in six CWS games. Georgia's loss means the Southeastern Conference was winless in the CWS for the first time since 1994, when Auburn and LSU went a combined 0-4.
Nickerson (12-4) was solid in a 3-1 loss to Tulane in his CWS start a year ago, allowing two runs on seven hits in seven innings. He was rewarded for his seven innings this time.
"This year it was a little easier to pitch and let the defense play for me because we had that early lead," he said. "Later in the game, I just went after hitters."
Coach Pat Casey said the win represented another step in OSU's evolution.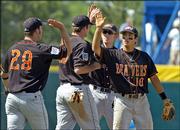 "There have been some milestones to reach - sometimes it's winning a series against Arizona State or Stanford, then the next thing is to finish in the top four or five in your conference and then maybe to win a conference championship," Casey said.
The Beavers scored on a sacrifice fly and a safety squeeze to lead 2-0 against Georgia starter Mickey Westphal (7-3). Jonathan Wyatt homered for Georgia (47-23) in the third to get within a run, but fourth-inning RBI singles by Kunda and Darwin Barney made it 4-1.
Rice 3, Miami 2
Tyler Henley led off the game with a home run, closer Cole St. Clair pitched five solid innings in a rare start, and Rice held on in the ninth to win.
The victory put the Owls (57-11) in the winners' bracket, and they need to win once more to advance to the championship series. Rice will take on the winner of today's elimination game between Miami (42-23) and Oregon State on Wednesday night.
Miami fell short in its comeback bid in the ninth as Bryce Cox struck out the last two batters with the tying run on third base and the potential winning run on first.
With the count 2-2, Jon Jay checked his swing and plate umpire Randy Harvey appealed to third-base ump Joe Burleson, who said Jay swung for strike three.
Hurricanes coach Jim Morris ran out of the dugout to argue the call and was ejected by Burleson shortly into the discussion. Then, with most of the crowd standing at Rosenblatt Stadium, Cox came back and struck out Danny Valencia to end the game.
Copyright 2017 The Associated Press. All rights reserved. This material may not be published, broadcast, rewritten or redistributed. We strive to uphold our values for every story published.