Baghdad, Iraq — An al-Qaida-linked group said Monday it was holding captive two U.S. privates, one from Texas and the other from Oregon, and taunted the U.S. military for failing to find the soldiers despite a search involving more than 8,000 Iraqi and American troops.
The Mujahedeen Shura Council, an umbrella organization for a variety of insurgent factions led by al-Qaida in Iraq, offered no video, identification cards or other evidence to prove that they have the Americans. The group had vowed to seek revenge for the June 7 killing of Abu Musab al-Zarqawi, the leader of al-Qaida in Iraq, in a U.S. airstrike.
The council also said it was responsible for the June 3 kidnapping of four Russian Embassy workers. The two separate postings could not be authenticated, but they appeared on a Web site known for publishing messages from insurgent groups in Iraq.
Pentagon spokesman Bryan Whitman, when asked about the claim by the Shura Council that it was holding the soldiers, said: "We have no independent confirmation of that report."
Besides the troops, the U.S. military said Monday it has deployed fighter jets, helicopters, unmanned drones, boats and dive teams in the hunt for the soldiers, who disappeared Friday in a region south of Baghdad known as the "Triangle of Death."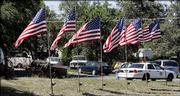 Residents said the Americans slapped a 3 p.m.-to-6 a.m. curfew in the area and were conducting house-to-house raids, arresting anyone found not to be a permanent resident. They said U.S. and Iraqi soldiers were demanding to see each family's food ration card, which lists the number of beneficiaries, so as to single out outsiders.
Troops searching for the soldiers killed three suspected insurgents and detained 34 in fighting that also left seven U.S. servicemen wounded, said military spokesman Maj. Gen. William Caldwell.
The area is among the most dangerous in Iraq for U.S. troops and mostly populated by minority Sunni Arabs, the backbone of Iraq's 3-year-old insurgency. The two soldiers were missing after an attack on their traffic checkpoint that left one of their comrades dead.
Ahmed Khalaf Falah, a farmer, has told The Associated Press that he witnessed seven masked gunmen seize the soldiers near Youssifiyah, about 12 miles south of Baghdad.
Iraqi Foreign Minister Hoshyar Zebari said Sunday that insurgents had taken the soldiers prisoner. "Hopefully they would be found and released as soon as possible," he said on CNN's "Late Edition."
Kidnappings of U.S. service members have been rare since the 2003 U.S.-led invasion, despite the presence of about 130,000 forces.
U.S. troops patrol only in convoys. Foot patrols, while common in parts of Iraq during 2003 and 2004, have become rare because of roadside bombs, snipers and ambushes.
The last U.S. soldier to be captured was Sgt. Keith M. Maupin of Batavia, Ohio, who was taken on April 9, 2004 after insurgents ambushed his fuel convoy. Two months later, a tape on Al-Jazeera purported to show a captive U.S. soldier shot, but the Army ruled it was inconclusive.
Six soldiers, including Pvt. Jessica Lynch, were captured in an ambush in southern Iraq in the early days of the war - March 23, 2003. Lynch was rescued April 1, 2003, the others 12 days later.
The Mujahedeen Shura Council did not make threats or demands in the abduction of Pfc. Kristian Menchaca, 23, of Houston, Texas, and Pfc. Thomas L. Tucker, 25, of Madras, Ore., saying only that "we shall give you more details about the incident in the next few days, God willing." Spc. David J. Babineau, 25, of Springfield, Mass., was killed in the attack on the checkpoint at a canal crossing near the Euphrates River.
All three were from the 101st Airborne Division based at Fort Campbell, Ky.
Copyright 2018 The Associated Press. All rights reserved. This material may not be published, broadcast, rewritten or redistributed. We strive to uphold our values for every story published.