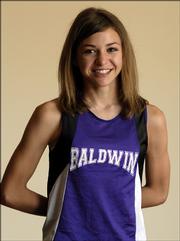 To say Heather Garcia couldn't catch a break during the fall of 2005 wouldn't be entirely accurate.
After all, the list of maladies that ruined a promising cross country season included a broken arm. Add in the occasional asthma flare-up, allergies and the common cold, and the Baldwin High sophomore experienced an autumn she'd rather forget.
Fortunately for Garcia, once spring arrived, so did her immunity. In an enjoyable twist of fortune, nothing - and nobody - could catch her.
Proving the three medals she won as a freshman at the Class 4A state track meet were no fluke, Garcia strung together a series of strong performances during the 2006 campaign before turning Wichita's Cessna Stadium into her own personal playground the final weekend of May.
In an impressive feat of endurance, Garcia won gold medals in both the 3,200 and 1,600 meters, added a silver in the 800 and ran a leg on the fourth-place 4x400 relay - all in a span of less than 12 hours.
Photo Gallery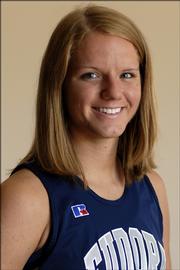 All-Area Girls Track
The All-Area girls track team was selected by the Journal-World sports staff and is based heavily on voting by area coaches and performances throughout the season. Athletes were eligible for nomination in multiple events, yet can fill just one position on the All-Area team.
That one day of success - on the heels of two months of similar attention-grabbing results - made Garcia a runaway selection as the All-Area Girls Track and Field Athlete of the Year.
"It turned out better than what I was expecting," said Garcia, smashing to pieces any concerns about a sophomore slump. "At the beginning of the year, I wasn't really thinking about state. I was just trying to progress. By state, I was able to compete at my best. It turned out good."
Good? By any measure, that description falls into the category of understatement, especially considering the physical ailments Garcia endured six months earlier - and the emotional hurdles that figured to follow.
"She had what I consider a monster year," said longtime Baldwin coach Ted Zuzzio. "Not just the state meet, but she competed so well in all the big meets throughout the season.
"She started out the track season a little bit leery. We basically started her out gradually with just the two events (the 1,600 and 3,200). But she's very special. When you fire the gun, she's ready to run."
Asked how Garcia stacks up against the hundreds of other athletes Zuzzio has mentored during his 30 years with the Bulldogs, he didn't mince words.
"She's the best. She's by far the best, no doubt about it," Zuzzio said. "We've had some kids win at state ... but not with the quality of times Heather has shown in the last two years."
Now comes the challenge of making the best even better. At merely the halfway point of her high school career, the push to sustain success - both externally and internally - already is taking hold.
"I put a lot more pressure on myself to just keep getting better and better," Garcia said.
Still, Zuzzio has no concerns about where it will lead.
"Our school record book just reads, 'Garcia, Garcia, Garcia,'" he added. "And it's going to read more 'Garcia.'"
All-Area Girls Track team
Emily Ballock ¢ Soph. ¢ Eudora ¢ 300 hurdles Won second straight Class 4A state title in 45.01 seconds Megan Ballock ¢ Sr. ¢ Eudora ¢ 400 Finished third at Class 4A state meet in 1 minute, 0.72 seconds Jackie Goleman ¢ Jr. ¢ De Soto ¢ High jump Won Class 4A state title with leap of 5 feet, 6 inches Brittney Graff ¢ Jr. ¢ Eudora ¢ 1,600 Finished second at Class 4A state meet in 5 minutes, 23.23 seconds Sarah Hartshorn ¢ Sr. ¢ Tonganoxie ¢ Discus Finished second at Class 4A state meet with throw of 130 feet, 7 inches Carrie Lister ¢ Sr. ¢ Eudora ¢ Shot put Finished sixth at Class 4A state meet with throw of 38 feet, 3.75 inches Aubrey Moore ¢ Jr. ¢ Wellsville ¢ 100 Finished fifth at Class 3A state meet in 12.56 seconds Jodi Mundy ¢ Fr. ¢ Santa Fe Trail ¢ 200 Finished fourth at Class 4A state meet in 26.39 seconds Ali Pistora ¢ Jr. ¢ Tonganoxie ¢ Javelin Finished second at Class 4A state meet with throw of 140 feet, 7 inches Christy Weller ¢ Soph. ¢ Tonganoxie ¢ 800 Finished seventh at Class 4A state meet in 2 minutes, 22.86 inches Jackie Chappell ¢ Jr. ¢ Wellsville ¢ Triple jump Finished seventh at Class 3A state meet with leap of 34 feet, 1 inch Sara Exon ¢ Jr. ¢ Mill Valley ¢ 100 hurdles Finished seventh at Class 5A state meet in 16.18 seconds Carissa Hughes ¢ Sr. ¢ Wellsville ¢ Pole vault Won Class 3A state title with vault of 10 feet, 0 inches Lena Poll ¢ Jr. ¢ McLouth ¢ Long jump Finished eighth at Class 3A state meet with leap of 16 feet, 5.75 inches
Copyright 2017 The Lawrence Journal-World. All rights reserved. This material may not be published, broadcast, rewritten or redistributed. We strive to uphold our values for every story published.