New York — Anyone who grumbles that there's nothing new in television hasn't heard about My Network TV.
Created out of the ashes of UPN and due to take flight on Sept. 5, this haven for prime-time soap operas represents one of the most intriguing rolls of the dice that the TV business has seen in several years.
It will test whether there is an English-language marketplace for telenovelas, the steamy, short-run stories that are all the rage in Latin America and the programming foundation for Univision, the nation's most popular Spanish-language network.
"There's always been a reluctance on the part of American television to recognize formats from around the world," said Jack Abernethy, CEO of Fox Television Stations. "That reluctance kept things like 'American Idol' off the air for a long time while it was popular in England. It kept 'Survivor' off the air.
"There's been this notion that we're somehow more sophisticated and that these kind of plot lines aren't going to work here," he said. "This is going to prove them wrong."
Driven by necessity
My Network TV was created by the Fox station group out of necessity, not design.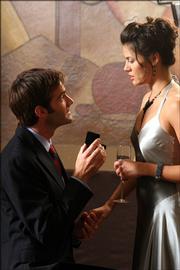 Executives from CBS Corp. and Warner Bros. Entertainment surprised the industry in January by announcing they would fold their money-losing WB and UPN networks, and create the new CW network by combining the assets of both.
Abernethy suddenly had a problem of what to do with the Fox-owned UPN affiliates. He had no idea what they were going to put on the air in only eight months.
He and his colleagues considered several alternatives, scouring the market for reruns of old network hits. Running syndicated fare like "Dr. Phil" in prime time was one possibility.
"It became apparent that the solution was right under our nose," Abernethy said.
Corporate cousin Twentieth Television was already developing telenovela projects for either sale in the syndication market or as a hedge if UPN folded, he said. They decided to make this the focus of a new network.
My Network TV will "strip" its stories just like daytime soap operas, with a new episode five nights a week. The dramas will run in 13-week increments - four separate stories under the "Desire" umbrella at 7 p.m. and four stories under "Secret Obsessions" at 8 p.m.
The network has purchased scripts that aired successfully overseas, like the "Table for Three" story that debuts this fall. The saga of two brothers who fall in love with the same beautiful woman, while each man is being chased by the Mafia, was a big hit when it aired in Colombia.
Familiar touches
Some of the stories are familiar for other reasons. "Dangerous Love" will remind some viewers of "Romeo & Juliet," while "Watch Over Me," about a rich man who hires security to protect his fiancee, has elements of the movie "My Bodyguard," said Bob Cook, president of Twentieth Television.
Channel changes
The My Network affiliate in the Kansas City market will be KSMO, Sunflower Broadband Channel 3. The new CW network will air on KCWE, Sunflower Broadband Channel 17.
"There are some very popular telenovelas that we did not option," Cook said. "The reason is because they were too corny, too over-the-top, too overstated and didn't adapt well to American sensibilities. You have to be smart about that."
Most of the casts are attractive unknowns, although there are few familiar faces sprinkled in. Bo Derek plays a powerful fashion icon in one story, while Sean Young portrays a woman who waits two decades to get revenge on a husband who abandoned her in another. Maria Conchita Alonzo, who has starred in 11 telenovelas, will be featured in a My Network TV story, too.
With the stories moving more quickly than daytime soaps, My Network plans to offer weekend summaries to help viewers keep up with the stories, along with brief review at the outset of each night's episode. Fresh content will also be offered online, Abernethy said.
The industry is looking at the idea with tentative curiosity, said Jack Myers, publisher of the broadcasting industry newsletter The Myers Report.
"Whether the telenovela strip concept can work in English remains to be seen," he said. "But given the success of the prime-time soap opera, it seems like an idea whose timing might be perfect."
The Fox stations have also bought the rights to syndicated reruns of "Desperate Housewives," which will begin airing in 2008.
Copyright 2018 The Associated Press. All rights reserved. This material may not be published, broadcast, rewritten or redistributed. We strive to uphold our values for every story published.