Mamaroneck, N.Y. — After two heartbreaking U.S. Opens in New York, Phil Mickelson might finally give his faithful something to really cheer.
On a torturous day that stirred memories of the infamous "Massacre at Winged Foot" in 1974, Mickelson was flawless on the back nine and surged into a share of the lead Saturday at the U.S. Open with a 1-under 69.
All that stands in his way of a third straight major - something only Tiger Woods has done in the last 50 years - is 18 holes and an unheralded Englishman playing in his first U.S. Open. Kenneth Ferrie held on as long as he could until badly missing a 6-foot par putt on the final hole to join Mickelson at 2-over 212.
It was the highest 54-hole lead at the U.S. Open since Winged Foot 32 years ago, when Tom Watson led at 3-over 213. That was the year Hale Irwin won at 7-over 287, the year that gave Winged Foot its reputation as one wicked test of golf.
And it sure lived up to it on this steamy Saturday afternoon.
Steve Stricker held on to his tenuous lead for eight holes until he started missing fairways and limped home to a 76. Colin Montgomerie dropped five shots on his first four holes, then steadied himself for a 75 that kept alive faint hopes of a first major.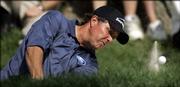 Padraig Harrington needed a birdie on the 18th hole to catch Mickelson, but made a mess of it. He barely made contact out of the deep rough, moving the ball only about 15 yards into the fairway. Once he got out of a greenside bunker, he three-putted for a triple bogey that sent him spiraling down the leaderboard.
Mickelson was immune to such struggles on the back nine.
He holed a 6-foot birdie putt on the 14th hole and a slippery 15-footer on the 16th that sent the New York gallery into a frenzy, one of the few times all day they had reason to unleash their unbridled support of their beloved Lefty.
Mickelson's 10-foot birdie try on the 18th ran 5 feet by the cup, but he made that for par and walked off the green with a tip of the cap.
Vijay Singh had to make a 30-foot par putt to stay in the hunt, only three shots behind. Jim Furyk bogeyed two of the last three holes and was another shot back.
Geoff Ogilvy, whose temper gets in the way of his golf at times, kept his head and shot 72 to finish at 3-over 213. Singh and Ian Poulter, who each shot 70, joined Stricker and Montgomerie at 215.
Copyright 2018 The Associated Press. All rights reserved. This material may not be published, broadcast, rewritten or redistributed. We strive to uphold our values for every story published.