A former assistant tennis pro at Alvamar Country Club, Todd Chapple teaches at Eudora West and coaches basketball at Eudora Middle School. He hasn't picked up a tennis racket in four years.
What happened? A mental breakdown? Burnout? Too busy for tennis?
None of the above. The only thing Chapple has against tennis is that it's not golf.
"Every tennis court looks the same," Chapple said. "No two golf holes are exactly alike."
Well said.
"Tennis is a mental game," he added. "Golf is even more mental."
Unfortunately, truer words never have been spoken. Golf gets on the brain, and only sleep can give it a rest. Sometimes, the more you think about the game, the worse you get. Chapple tries to improve his chances of conquering the mental side of the game with practice, practice and more practice.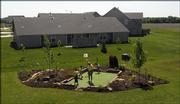 His golf addiction is fed at Alvamar, where he can be found playing or practicing "five or six" days a week during the summer. And it's fed in his back yard, where he is the owner/greenskeeper/player of his very own one-hole golf course, which he named "The Dunes at the Jayhawk Lounge." The lounge, replete with bar, big-screen TV, and framed pictures of his favorite golf courses is in the basement of the home he shares with his wife and three children in a new Southwest Lawrence neighborhood. The first half of the name comes from his third-favorite golf course (behind Spyglass and Pebble Beach), Prairie Dunes in Hutchinson, site of next month's U.S. Senior Open.
Chapple is so obsessed with golf that he constructed a hole in his backyard, landscaped around it, and forever uses it to improve his chipping and, to a lesser extent, his putting. He started by buying Astro Turf on e-bay. Underneath it, Chapple put AB-3 crushed rock, the material used under brick patios. He top dressed the green with sand. In honor of the name of his street, he planted Coneflowers. He also planted Cottonwood trees on each side of the green, a nod to the trees that make the approach shot to the 12th green at Prairie Dunes such a tight one.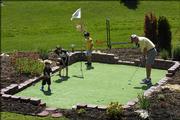 "In 10 years, they'll be huge and will provide some shade," he said.
By then, he will have tinkered with the green almost as much as he does his swing. The green slopes down from the front now, making the putts too fast, a problem he'll address at the end of growing season. He said he plans to temporarily remove the bricks, peel back the AstroTurf, and add crushed rock under the back of the green to make it more level.
"The one thing it's helped me with the most is my short game," he said.
Neighborhood children have been know to spot activity at the green, grab a couple of clubs, and sprint to the Chapple's backyard to chip and putt.
Words of wisdom
"Golf is a game that is played on a five-inch course - the distance between your ears." - Bobby Jones
Chapple tends to the flowers that surround the green with the attention to detail of a master gardener.
"My plants are on the Barry Bonds steroid program," he said. "Miracle-Gro."
Chapple has played at some of the world's most famous courses and has played with some of the town's most famous residents, past and present. His first-round match play opponent in a tournament once was Roy Williams, who called him to set up the game and then defeated Chapple. His teammate in Alvamar Country Club's member-member tournament was Bill Self.
Chapple tees off next to his back patio onto the green that is 18 feet long and 12 feet wide. He said he has the only two aces on the "course," so far. He hopes his children join him soon in the ranks of hole-in-one golfers.
"Phil Mickelson always says to teach a kid the short game first," said Chapple, whose child within led him to build the golf hole in his back yard.
"My wife's been very understanding," he said in the understatement of the century.
Tip
By Randy Towner
If you've only left yourself 20 minutes to hit balls before you play a round of golf, use the clubs you are going to use the most. I would chip for a while. I would putt for a while, and I'd hit a few drivers. I hit a lot of wedges and a lot of 9-irons to greens, so I practice those all the time. Very few holes do I ever hit 3-irons. I don't spend a lot of time working on 3-irons. Go back through a round of golf and figure out what clubs you hit most of the time. You're going to hit a lot of 50-yard-and-in shots, so practice those. You just try to approach it in a logical fashion.
- Tipster Randy Towner is the head pro at Alvamar Country Club
This week in golf:
Hole
No. 4, Alvamar Country Club
Par: 4. Yards: 398 (championship tee)
An accurate tee shot is a big help on this uphill trek of a hole that is a nice walk with a castle-like home behind the green. Hitting this green can be a tricky proposition because the incline requires hitting an extra club, yet it's better to leave the approach shot below the hole because a downhill putt from behind the hole on this steep green can spell disaster.
Copyright 2018 The Lawrence Journal-World. All rights reserved. This material may not be published, broadcast, rewritten or redistributed. We strive to uphold our values for every story published.