Saturday was a day in Lawrence to celebrate cats, children's art and the news about the end of slavery in the United States.
Only four days before the official start of summer, three events brought people from outside and inside Lawrence together.
Fancy cats and house cats stole the show Saturday morning at the Douglas County 4-H Fairgrounds.
One of them there, Calliope Jane, was brought into competition after she was born on a construction site.
She's just a mutt, a calico with hazy orange and black tufts of fur and bright, clear eyes. But for the American Cat Fanciers Assn., a ranking body among cat shows nationwide, the former shelter cat Calli is a true beauty.
"It's the first organization to allow household pets," said Murlene Priest, president of the Kansas City Midwest Cat Club.
All weekend, Priest is hosting more than 100 cats driven and flown in from 15 states and Canada as part of the annual International Cat Show sponsored by Priest's club and the cat association.
Photo Gallery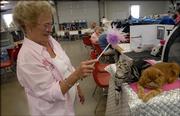 Cats, captains and karaoke
House cats have their own category, as well as national rankings. Right now, Calli is ranked 18th, mainly because she's ultrafriendly, clean and healthy.
The cat show continues from 9 a.m. to 4 p.m. today at the fairgrounds.Later Saturday morning, the music ringing from massive speakers at Burcham Park signaled a new page in the brief history of Juneteenth celebrations in Lawrence.
The tunes, including those performed by award-winning national acts and local groups, became part of the growing celebration of black history this year.
"It's not getting any easier because we want it to be bigger," organizer Janine Colter said.
The weeklong event, which commemorates the last American slaves learning of their freedom in 1856, is now in its third year in Lawrence. It has evolved from a smaller event coinciding with the city's sesquicentennial three years ago to a communitywide celebration of education and freedom.
Among the face-painting, barbecue and music, it was a chance to catch up with friends and neighbors, as folks chatted on park benches and shared hot dogs and drinks.
But events the rest of the week will turn the focus back to education - something that has become a goal of the Boys and Girls Club during the Juneteenth celebration.
Since the event's inception, club members have heard community members talk about the importance of the historic week and then expressed what they'd learned in essays and murals. The week also will feature tours of local underground railroad sites and oral history programs at Kansas University.
And Saturday evening at the Clinton Lake Marina, about 450 people ate a barbecue dinner and listened to the distinctive, speedy auctioneer speech of Mark Elston. They were bidding on art created by students in the Van Go Mobile Arts JAMS program and other prizes at the third annual "What Floats Your Boat?" fundraiser.
Heather Hoy, Van Go's development director, said the organization hoped to raise at least $30,000 for its Jobs in the Arts Make Sense program. JAMS offers training opportunities to youths, and 22 currently are enrolled.
At the event, she was optimistic about the group's goal.
"I think we'll do better than that. There are so many people here," Hoy said.
Copyright 2018 The Lawrence Journal-World. All rights reserved. This material may not be published, broadcast, rewritten or redistributed. We strive to uphold our values for every story published.