Anaheim, Calif. — Vladimir Guerrero hit a two-run homer, and Orlando Cabrera's two-out RBI single in the 10th inning lifted the Los Angeles Angels to a 3-2 victory over the Kansas City Royals on Thursday night.
Cabrera's soft liner off Elmer Dessens sailed over the reach of Royals shortstop Angel Berroa and scored Mike Napoli from third.
Dessens (3-6) walked Napoli, pinch hitting for Jose Molina, leading off the inning. Adam Kennedy's sacrifice bunt moved Napoli to second, and he went to third on Chone Figgins' groundout.
Dessens gave up one run and two hits - both singles by Cabrera - in 22â3 innings.
Hector Carrasco (2-2) pitched a perfect 10th to get the win.
The Royals had tied it in the eighth with their second unearned run after Brendan Donnelly hit David DeJesus leading off the inning. DeJesus moved to second on Mark Grudzielanek's sacrifice bunt and Donnelly walked Doug Mientkiewicz before Francisco Rodriguez came on in relief.
DeJesus took third on a short wild pitch in the dirt by Rodriguez. The right-hander then struck out Reggie Sanders, but catcher Molina threw wildly to second as Mientkiewicz stole his fourth base of the season.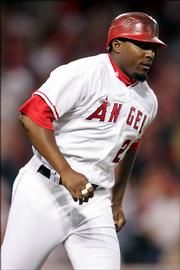 The ball rolled into center field and DeJesus scored. Rodriguez struck out Matt Stairs to end the inning. The blown save was the second in seven chances for Rodriguez, who struck out four and walked one in 12â3 innings.
John Lackey held Kansas City to one unearned run over his seven innings, then Donnelly came in to start the eighth. Lackey struck out eight and allowed four singles, two of them when the Royals scored in the first inning.
Lackey retired 14 in a row before issuing a one-out walk to Emil Brown in the seventh. With the no-decision, the Angels' right-hander was left with just one win in his last nine starts.
The Royals' Mike Wood went 61â3 innings to match his longest start of the year, holding the Angels to two runs and seven hits, including Guerrero's homer. Wood struck out three and didn't walk a batter.
Guerrero hit his 16th homer, a towering drive to center, on a chest-high fastball out over the plate in the third inning.
Royal sadness
Can the Royals match the record futility of the 1962 Mets? Will Sluggerrr keep sobbing all season? Let's keep track.
2006 Royals
65-game record: 17-48
Win percentage: .262
Projected finish: 42-120
1962 Mets
65-game record: 18-47
Win percentage: .283
Finish: 40-120
The Royals scored in the opening inning after shortstop Cabrera missed first baseman Kendry Morales' throw to second trying to start a double play. Stairs' RBI single gave the Royals a quick 1-0 lead, but Lackey struck out Brown to end the inning with runners on first and third.
Notes: Cabrera singled in the eighth to stretch his on-base streak by hit, walk or hit-by-pitch to 45 games, longest in the majors this year. ... Los Angeles RHP Bartolo Colon, last year's AL Cy Young Award winner, is expected to start either Sunday or Monday in his return from the DL. Colon has been sidelined since April 16 by tendinitis in his right shoulder. The Angels will have to open a spot in the rotation for him, with the possibilities including sending Jered Weaver (4-0, 1.37 ERA) back to the minors or switching his older brother, Jeff (3-9, 6.15 ERA) to the bullpen. ... Kansas City 2B Grudzielanek hasn't made an error in a stretch of 76 games dating to last Sept. 2 when he was with St. Louis.
Copyright 2018 The Associated Press. All rights reserved. This material may not be published, broadcast, rewritten or redistributed. We strive to uphold our values for every story published.