Washington — President Bush created a vast new marine sanctuary on Thursday, extending stronger federal protections to the Northwestern Hawaiian Islands and the surrounding waters with their endangered monk seals, nesting green sea turtles and other rare species.
The nation's newest national monument covers an archipelago 1,400 miles long and 100 miles wide in the Pacific Ocean. It's home to more than 7,000 species, at least one-fourth of them found nowhere else.
"To put this area in context, this national monument is more than 100 times larger than Yosemite National Park," Bush said. "It's larger than 46 of our 50 states, and more than seven times larger than all our national marine sanctuaries combined. This is a big deal."
Creation of the nation's 75th national monument was announced at a White House ceremony. The decision immediately sets aside 140,000 square miles of largely uninhabited islands, atolls, coral reef colonies and underwater peaks known as seamounts to be managed by federal and state agencies.
Bush said he drew inspiration from a documentary on the island chain's resources shown in April at the White House by Jean-Michel Cousteau, the marine explorer and filmmaker. Over dinner that night, Bush said he also got "a pretty good lecture about life" from marine biologist Sylvia Earle, an explorer-in-residence at the National Geographic Society.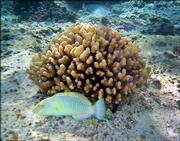 In introducing the president, first lady Laura Bush quoted Mark Twain, who once described Hawaii as "the loveliest fleet of islands that lies anchored in any ocean."
Conrad C. Lautenbacher, head of the National Oceanic and Atmospheric Administration, which will manage nearly all of the protected area, said: "It's the single largest act of ocean conservation in history. It's a large milestone."
"It is a place to maintain biodiversity and to maintain basically the nurseries of the Pacific," he said. "It spawns a lot of the life that permeates the middle of the Pacific Ocean."
Copyright 2018 The Associated Press. All rights reserved. This material may not be published, broadcast, rewritten or redistributed. We strive to uphold our values for every story published.