In the basement of Warren-McElwain Mortuary is a secluded room.
The sign outside reads: "Cremation Storage Area: Visitation Hours 9 a.m. to 4 p.m."
Inside are several dozen containers. Some are cardboard boxes, some are brass tins, a few are elaborate urns. But they all contain the same thing: the ashes of someone's dearly departed.
These "cremains," as funeral directors call them, can be found in almost any funeral home, usually tucked out of sight in a spare closet or cupboard.
But the collection at Warren-McElwain, 120 W. 13th St., requires an entire room. Inside, there are 40 sets of cremains, including some dating to the 1930s.
The reasons they haven't been picked up vary, according to funeral director Larry McElwain. A few have been forgotten, but most are being stored for a later date. Many await the death of a spouse so both sets of ashes can be scattered or buried together.
About one in three people who dies in Lawrence is cremated. The state average is one in four, according to the Cremation Association of North America. McElwain attributes cremation's greater acceptance in Lawrence to the open-mindedness of its residents. Most university towns, he said, have a higher rate of cremation than surrounding areas.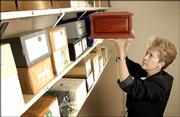 Mack Smith, executive secretary of the Kansas State Board of Mortuary Arts, said cremation rates in the Midwest continue to grow.
"Things come to Kansas, but by the time they come here - not just funerals, but everything - it's yesterday's news on the East or West Coast," Smith said. "Well, cremation's here in Kansas, big-time, compared to what it has been in the past."
But with that popularity comes a little-known byproduct: remains that go unclaimed.
"With the cremation rate going up : it doesn't take too long to accumulate quite a few of them if people don't come pick them up," Smith said.
Scatter or keep
According to Kansas law, funeral homes may dispose of unclaimed cremains after 90 days. At least 30 days before disposal, the funeral director is required to contact the closest relative's last known address.
If the relative doesn't reply, funeral homes have the right to dispose of the cremains. Usually, they're buried in a mass cemetery plot or scattered.
According to the Kansas State Board of Mortuary Arts, it is illegal to scatter ashes in federal parks or waterways. Scattering them on private property is legal, but only with the owner's permission.
McElwain said he knows he could dispose of the cremains, but he'd rather hold onto them. "We've chosen to be the repository, if necessary," McElwain said. "If that gives somebody peace of mind, if that gives somebody a good feeling, hey, it's fine with me. We just continue to increase our space and deal with it."
McElwain said about 40 percent of families that come to Warren-McElwain choose cremation over traditional burial. Though the mortuary doesn't have a crematory of its own, it uses one at Rumsey-Yost Funeral Home, 601 Ind.
The Rumsey-Yost crematory, which was installed in 1998, is the only crematory in Douglas County.
But Rumsey-Yost doesn't store those that are unclaimed. Not for long, anyway.
Mack Smith, executive secretary of the Kansas State Board of Mortuary Arts, on why cremation may be more popular in Lawrence
Bart Yost, a funeral director there, said cremains are almost always picked up by the family. On the rare occasion they go unclaimed for 90 days, the funeral home follows Kansas law and buries them in a cemetery plot.
Yost said families who didn't claim the cremains right away probably preferred that the funeral home handle them.
"I don't think they forgot," he said. "They don't want to deal with it. Out of sight, out of mind : which isn't necessarily the most healthy way to deal with it, but some people do."
For the families
Deanna Stephens, a funeral home director at Cedar Crest Memorial Chapel in De Soto, has about 12 sets of cremains stored in a closet at the mortuary that have accumulated during the past 10 years.
What usually happens to cremains after the funeral?
40.7 percent are delivered to the cemetery.
35.8 percent are taken home by survivors.
17.8 percent are scattered over land or water.
5.7 percent are not picked up.
Of the cremains that aren't picked up:
45.6 percent are placed in storage on the funeral home premises.
32.4 percent are disposed of in a proper and legal way.
22 percent are placed in a permanent vault.
Source: Cremation Association of North America
Stephens said some people just didn't know what to do with cremains.
"I even had a family come in and get them, sprinkle (some of) them out on a golf course and bring (the rest) back because they really didn't know what to do with them," she said. "They sprinkled very few of them."
She said about 50 percent of families in De Soto choose cremation over traditional burial, mostly because it's less expensive.
Some of the cremains at Warren-McElwain Mortuary get regular visitors. One family arrives each holiday season for a short service with their deceased loved one, then returns the set of cremains to its shelf until the next visit.
McElwain said all the cremains, no matter how old, have not been forgotten, just stored away in a safe place.
"I don't want people to feel like I'm in a hurry," McElwain said. "They're not in the way, they're not a nuisance. In a way, I'm glad they feel comfortable about it."
Copyright 2018 The Lawrence Journal-World. All rights reserved. This material may not be published, broadcast, rewritten or redistributed. We strive to uphold our values for every story published.