Berlin — Spain looks ready to lose its title of perennial underachiever in the World Cup. The Spaniards routed Ukraine, 4-0, Wednesday in Group H, getting two goals from David Villa and one spectacular strike from Fernando Torres.
Tunisia and Saudi Arabia, the other teams in the group, each took leads in their match before Rahdi Jaidi equalized in injury time for the North Africans to make it 2-2.
Later, host Germany scored in injury time of the second half to beat Poland, 1-0, the first teams to play twice at this year's World Cup.
Spain, which disappoints its fans more often than it pleases them, got off to a sensational start. And the best part of its win over Ukraine was Torres' goal in the 81st minute.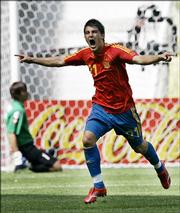 Captain Carles Puyol intercepted a pass in midfield, beat a defender with a spin and passed to Torres. He sent the ball to Raul Gonzalez, who put it back to Puyol on the edge of the area. Puyol returned it into the path of Torres, who had continued running and hit the ball to the goalkeeper's right.
Wednesday's win in Leipzig helped Spain stretch its unbeaten streak under coach Luis Aragones to 23 matches.
"If we show what we can do I know we can be among the top teams at this tournament," Aragones said. "I thought it was going to be more complicated, but the second goal made Ukraine more crestfallen and the rest was easier."
While the Spaniards are making their eighth consecutive World Cup appearance, they have failed to reach the semifinals since their best result, a fourth-place finish in 1950.
Copyright 2017 The Associated Press. All rights reserved. This material may not be published, broadcast, rewritten or redistributed. We strive to uphold our values for every story published.