Friends and family filled the stands for the second T-ball game for both Team 9 and Team 11 in the Parks and Recreation league. With the hot sun streaming in their faces at Youth Sports Inc., many cheers could be heard in support of the girls, whether they were up to bat or in the outfield.
Of course, after the game was over the girls were doing their own cheers, when getting excited for their snacks.
Team 9 member Crosby Dold was applauded not only for bringing fudgesicles for the team but also early on in the game for aiding in a rare triple play.
Shortstop Lauren Johnson caught the ball off a hit from Team 11, tagged a runner, and then threw the ball to Dold at third base.
Head coach Jean Younger said she was pretty excited when that play happened. But she thought in general that their fielding could use a little more work. Scores aren't tallied in the league, so coaches judge success and growth by improvement.
"They are much improved from the last game, especially their hitting," Younger said.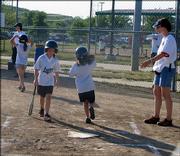 Team 11 assistant coach Phil Bentzinger agreed that his team had improved as well. This team is unique in the way that it is basically the same team from last year, with most of the same girls. He said he noticed improvement from last year to this season.
"It's amazing what a difference a year makes," he said.
A lot of the girls from both teams were able to hit off the pitcher, but at times the T-ball was brought out to the plate.
Some assistance was needed for both teams about where to place their feet at the plate. Regardless of what mistakes the girls made, their confidence was evident that they were going to do well when they walked up to the plate. The girls strutted their stuff when they entered the batter's box, giving parents and fans in the stands plenty to cheer about.
When the teams were in the field, catching was an issue for some, but overall the effort was definitely there. It was easy to see the girls wanted to play.
"We want to let all the girls try different positions, and just go out there to have fun-that's our goal," Bentzinger said.
Copyright 2018 The Lawrence Journal-World. All rights reserved. This material may not be published, broadcast, rewritten or redistributed. We strive to uphold our values for every story published.