London — Bidders clamored Tuesday for jewelry owned by the late Princess Margaret - including the tiara she wore at her wedding - during an auction that surpassed the predicted total with the sale only half over.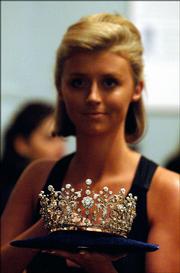 Christie's said the collection of jewels drew $17.3 million in the first day of the two-day sale. The auction house had originally estimated that the auction would bring in about $15 million.
Margaret, the younger sister of Queen Elizabeth II, died of a stroke in 2002 at the age of 71. She was known for her glamour and sense of style.
One of the most-watched items was the tiara, shown at right, that Margaret wore at her 1960 wedding to Lord Snowdon. Originally designed in 1870 for Lady Poltimare, it fetched $1.7 million, far more than its $360,000 pre-sale estimate.
The auction, which included 192 pieces of jewelry Tuesday, today will offer 600 items of furniture, china, monogrammed silver boxes and decorative items.
Copyright 2018 The Associated Press. All rights reserved. This material may not be published, broadcast, rewritten or redistributed. We strive to uphold our values for every story published.