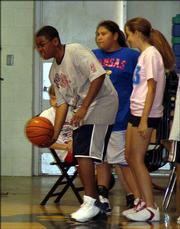 Mark Laskowski, who graduated from playing center at South Junior High School to hopefully suiting up for Lawrence High this year, said he thinks he already has a head start in his preparation for prep competition thanks to his participation in LHS basketball coach Chris Davis' shooting camp.
"I've been doing this camp for the past five years and it has really helped me to develop as a player," Laskowski said. "I expect the camp to help me a lot next year in high school. Unlike most camps this one really focuses on the basics and that really helps your form."
This year Laskowski was joined by nearly 50 other basketball players from fourth to ninth grade, who tackled everything from free throw shooting to proper shooting form at the camp. Davis and his staff used a variety of drills to reinforce effective shooting skills in participants. The camp strictly focused on basic shooting skills where Davis and his staff assisted campers in breaking the habit of shooting with two hands.
"It's a hard habit to break," Davis said. "This camp has a lot of repetition with shots close to the basket to get kids to feel they are shooting the right way."
He pointed out that at such a young age, their bodies aren't developed yet, so the kids have been shooting incorrectly just to get the ball up there to make the shot.
Thus the art of shooting was broken down into steps to focus on the one-hand finish. Sami Johnson who attends Southwest Junior High School participated in the camp and said her form was helped by the one-handed drills.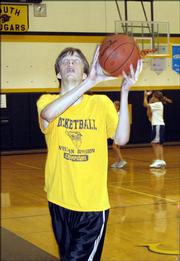 "When we shoot really close to the basket and have one hand behind our backs we try to swoosh it so we know how to have power in the shot," Johnson said.
Davis said the drills are little things that contribute to the all-around better form of players.
"We get them to take baby steps allowing them to take the next step to improving their shot," Davis said. "Nothing will get completely done in a week, but they will learn elements that they can work on in the summer."
The week-long camp also included a videotape session where each participant had their shooting formed recorded, and then reviewed by the coaching staff.
"When you are shooting you can't see your shot yourself but when you watch the tape you actually see and you know how to make better improvements," Johnson said.
Coaches would point out the fact that many campers were making similar mistakes like their peers.
"Seeing their mistakes really drives the skills home and lets them know they are not alone in making their mistakes," Davis said.
Johnson said all the acknowledgment and work has certainly improved her basketball skills. She participated in the camp last year and said she immediately noticed results.
"Last year this camp really helped my shooting form," Johnson said. "I made more shots because of my improved form."
LHS Summer Workout Camp Schedule
Mondays, Wednesdays and Fridays
June 12 - July 14 *5th - 9th grade girls - 12:00 - 1:30 pm - Schwegler Elementary *5th - 8th grade boys - 12:00 - 1:30 pm - LHS *2nd - 4th grade co-ed - 1:45 - 3:15 pm - Schwegler Elementary *9th - 12th grade co-ed - 1:45 - 3:15 pm - LHS
Copyright 2018 The Lawrence Journal-World. All rights reserved. This material may not be published, broadcast, rewritten or redistributed. We strive to uphold our values for every story published.