Pat Pisani of Kansas University's Hilltop Child Development Center laughs at the thought of advertising.
"That's the last thing we need," Pisani, Hilltop's executive director, said.
Word of mouth is enough for the KU-affiliated program, which caters to KU students and employees. With about 220 children, the center is full and then some.
Despite an expansion in 2000, about 330 youngsters are on the waiting list - a situation that can affect KU's recruitment of new faculty and employees.
"It certainly makes this a more attractive offer and makes KU seem like a much more welcoming place," Senior Vice Provost Kathleen McCluskey-Fawcett said of the center.
But few new faculty and staff are welcomed with a spot at Hilltop. The center gives first priority to KU students.
Though KU reserves five spots for incoming faculty, the university would need about 15 reserved spots to fill the need, McCluskey-Fawcett said.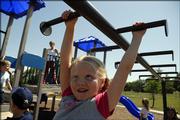 "I hate to have to say 'no' to people, but at the moment, that's the arrangement that we have," she said.
Plans for a $1 million, six-classroom wing are in the works. The addition, which would add about 100 more children to the center, may go to the Kansas Board of Regents as early as this month, Pisani said.
KU administrators are working on ways to fund the addition. McCluskey-Fawcett said it depends on whether KU can get a bond and spread payments over time.
The addition would be the final growth spurt for the center. Hilltop already is more than two times the ideal size for a child development center, Pisani said.
But Hilltop remains popular for its quality instruction, culturally and ethnically diverse student population, convenient location and flexible programs, Pisani said.
"It's one of the premier centers in the county," said Anna Jenny, executive director of Douglas County Child Development Assn.
Lisa Wolf-Wendel, KU associate professor of teaching and leadership, waited more than a year before her first daughter was initially accepted.
Wolf-Wendel said she likes the diversity of Hilltop's students and the convenience.
"It's just nice to be able to pick up and drop off your kids easily," she said.
About 50 percent of Hilltop's students are children of KU students. The other half are children of faculty and staff. A handful are children whose families aren't affiliated with KU.
The center expanded in 2000 when it moved from the Wesley Building to its current location off Irving Hill Road. At the time of the change, the waiting list had about 200 children on it. That figure has only grown.
Some children are on the list for years. Some never get in.
Demand from KU employees will continue to grow as KU recruits more women and men with young children, McCluskey-Fawcett said.
And there will be more like Lori Reesor, incoming associate vice provost for student success. Reesor, whose children are on the waiting list at Hilltop, discovered finding child care in Lawrence that fit her needs was hard.
After more than a dozen phone calls and visits to half a dozen centers, she found a situation where she'll split up her children among other centers. It's not ideal, but she's happy.
"It was very stressful," said Reesor, currently associate dean of education and assistant professor at the University of Missouri-Kansas City. "I underestimated how difficult it would be."
Reesor called child care a top priority. Without it, she couldn't work, she said.
If she hadn't been able to find child care in Lawrence, Reesor would have stayed in the Kansas City area and commuted - a situation that could have affected her tenure at KU, she said.
"I really wanted to be a part of the city and the Lawrence community," she said.
Finding the right child care can be tough in Lawrence, Jenny said.
"To find exactly what a parent may be looking for may be a challenge," she said. "I think parents need to look at the full range of options. There's a lot of different options available."
Copyright 2018 The Lawrence Journal-World. All rights reserved. This material may not be published, broadcast, rewritten or redistributed. We strive to uphold our values for every story published.